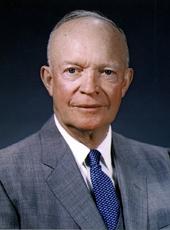 Memorandum of Disapproval of Bill for the Relief of Ashot and Ophelia Mnatzakanian.
I HAVE WITHHELD approval of H. R. 3963, "For the relief of Ashot Mnatzakanian and Ophelia Mnatzakanian."
The bill would grant permanent residence immigration status to the beneficiaries. Mr. Mnatzakanian, a 35 year old native and citizen of Iran, entered the United States in 1951 as an exchange student under one of the programs authorized by the United States Information and Educational Exchange Act of 1948. His wife, a 25 year old native of Russia and citizen of Iran, last entered the United States in 1952 as a visitor. Both beneficiaries last resided in Iran.
In principle, H. R. 3963 is similar to S. 143, a bill for the relief of Kurt Glaser, which I returned without my approval on June 3, 1955. In my message to the Senate at that time, I indicated my belief that we can maintain our exchange programs as effective instruments for promoting international understanding and good will only if both the participants and the United States observe the conditions of the exchange. When there are circumstances of undue hardship, possible jeopardy to safety of the individual, or other unique equities in behalf of an individual, there may be reason to set aside the principle that exchange personnel should return home. Except in such cases, the return rule is necessary to protect the purposes of the exchange program.
This government undertakes, at the expenditure of considerable effort and funds, the designation of private exchange programs as a means of promoting the objectives of the Educational Exchange Act. To the extent that foreign nationals are able to avoid the obligations they assume under the exchange program, these government funds and efforts are wasted, and other aliens are encouraged to use the exchange program as an avenue to immigration. I believe that this is both unsound and unfair.
In the case of Mr. Mnatzakanian and his wife, there is no valid reason shown for setting aside the principle that exchange personnel should return home. Although Mr. Mnatzakanian's two minor children were born in the United States and are dependent upon him, he appears capable of supporting them wherever they may be. Under the circumstances, therefore, I feel it is my duty to withhold approval of this bill. At the same time I reiterate my previous recommendation that the Congress enact a clear statutory requirement that exchange personnel return home and remain there for a minimum period before being eligible to reenter the United States for permanent residence.
DWIGHT D. EISENHOWER
Dwight D. Eisenhower, Memorandum of Disapproval of Bill for the Relief of Ashot and Ophelia Mnatzakanian. Online by Gerhard Peters and John T. Woolley, The American Presidency Project https://www.presidency.ucsb.edu/node/233068