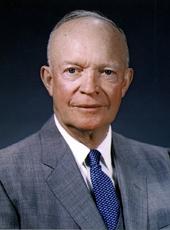 Memorandum of Disapproval of Bill Extending the Domestic Minerals Purchase Programs.
I HAVE WITHHELD my approval of H.R. 6373, an act "To amend the Domestic Minerals Program Extension Act of 1953 in order to extend the programs to encourage the discovery, development, and production of certain domestic minerals".
This bill, by Congressional action, would direct the continuation of the existing domestic minerals purchase programs under the Defense Production Act for certain minerals after defense needs have been met. Moreover, it would continue such purchases at prices considerably in excess of market price. It would direct the establishment of two new manganese buying depots and the reopening of a third. It would commit an additional 150 million dollars for the purchase of double the original program quantities of these minerals.
Pursuant to the Defense Production Act of 1950, as amended, certain purchase programs were established for these minerals during the Korean hostilities. Public Law 206 of the 83d Congress extended for two years the termination dates of these programs. H.R. 6373, in effect, would direct the expansion of these programs so as to require the Government to buy far greater quantities of these minerals than are necessary for defense purposes. As a result, Government assistance to the producers of several minerals will be continued under the guise of defense needs when such needs do not exist.
Furthermore, the fiscal arrangements that are provided for in H.R. 6373 are unsound. The bill would by-pass the usual budgetary processes and the customary review by Congressional committees. It would direct the use of the defense borrowing authority conferred by the Defense Production Act.
Finally, the provisions of H.R. 6373 would apply to only a small segment of the domestic minerals industry and would not reach the fundamentals of the problem. Indeed this bill would make solution of the overall problems of the industry more difficult.
I am conscious of the desirability of developing a long-range minerals program for the United States to assure an adequate mobilization base and to preserve a sound minerals economy. The Advisory Committee on Minerals Policy so advised, and the Office of Minerals Mobilization has been established in the Department of the Interior to determine and recommend such a program. The funds to make the necessary studies have just become available, and work toward the development of a long range program has begun.
The interests of the domestic minerals industry will be better served by proceeding with the careful development of a long range minerals program than by approving a stopgap measure extending substantial Government aid to only a segment of the industry. Meanwhile, with the exception of a single manganese depot, the existing domestic minerals procurement program remains uncompleted, and sales by domestic miners to the Government will continue under the provisions of the regulations now in effect.
DWIGHT D. EISENHOWER
Dwight D. Eisenhower, Memorandum of Disapproval of Bill Extending the Domestic Minerals Purchase Programs. Online by Gerhard Peters and John T. Woolley, The American Presidency Project https://www.presidency.ucsb.edu/node/233500