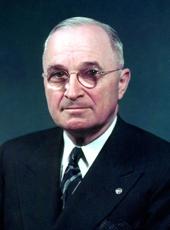 Memorandum of Disapproval of Bill To Exclude Newspaper and Magazine Vendors From the Social Security System.
I AM withholding my approval of H.R. 3997, a bill "To exclude certain vendors of newspapers or magazines from certain provisions of the Social Security Act and Internal Revenue Code".
This bill proceeds in a direction which is exactly opposed to the one our Nation should pursue. It restricts and narrows coverage under our social security law, while our objective should be to enlarge that coverage. The strength, security and welfare of the entire Nation, as well as that of the groups now excluded, demand an expanded social security system.
H.R. 3997 would remove social security protection from news vendors who make a full-time job of selling papers and who are dependent on that job for their livelihood. They and their families are exposed to the same risks of loss of income from old age, premature death, or unemployment as are factory hands or day laborers. They unquestionably fall in the group for whose protection our social security laws were devised.
Many, perhaps most, street vendors of newspapers are excluded even at present from coverage under the Social Security Act because they are independent contractors rather than employees of the publishers whose papers they sell. But some vendors work under arrangements which make them bona-fide employees of the publishers and, consequently, are entitled to the benefits of the Social Security Act. The standards used for determining whether or not the employer-employee relationship exists are the same in the newspaper business as they are in other enterprises. There is no justification for changing these standards so as to discriminate against employees in this particular industry.
It is said that the publishers have difficulty in keeping the necessary records and in collecting the employee contributions required by the social security system. In those cases where the vendors are so closely associated with the paper as to be its employees, the difficulties are no greater than those confronting many other employers of outside salesmen, or indeed employers of other kinds of labor. Certainly, it has not been shown that these difficulties are so formidable as to warrant a special rule of exclusion and the consequent destruction of benefit rights of insured persons and their dependents.
H.R. 3997 would invite other employers to seek exemptions whenever they can allege that the law is inconvenient or difficult for them to comply with. It would establish a precedent for special exemption, and the exclusion of one group would lead to efforts to remove social security protection from workers in other activities. Demands for further special legislation would be inevitable.
We must not open our social security structure to piece-meal attack and to slow undermining. We must, instead, devote our energies to expanding and strengthening that system.
HARRY S. TRUMAN
Harry S. Truman, Memorandum of Disapproval of Bill To Exclude Newspaper and Magazine Vendors From the Social Security System. Online by Gerhard Peters and John T. Woolley, The American Presidency Project https://www.presidency.ucsb.edu/node/232180