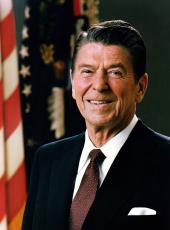 Memorandum of Disapproval on a Bill To Establish a National Nutrition Monitoring and Related Research Program
I am withholding my approval of S. 1081, a bill "to establish a coordinated National Nutrition Monitoring and Related Research program, and a comprehensive plan for the assessment of the nutritional and dietary status of the United States population and the nutritional quality of food consumed in the United States, with the provision for the conduct of scientific research and development and support of such program and plan."
The Administration strongly supports the principal goals of this legislation and reaffirms its commitment to use existing authority to achieve these ends. However, enactment of the bill would set up Federal nutrition efforts on the wrong course.
The bill would create a substantial amount of unnecessary and complex Federal bureaucracy that would hamper the achievement of the bill's goals. Under the bill, the Secretary of Agriculture and the Secretary of Health and Human Services, acting jointly, would bear responsibility for nutrition information collection and analysis, planning for research and grants, and government-wide nutrition program budgeting. The bill also would create an Administrator of Nutrition Monitoring and Related Research, an Interagency Board for Nutrition Monitoring and Related Research, and a Nutrition Monitoring Advisory Council. The creation of so much new Federal bureaucracy would hinder, rather than aid, performance of Federal nutrition-related functions.
The bill would impose a substantial new burden on the American taxpayer in future years to pay for Federal Government grants. First, the bill would require the Secretaries, acting jointly, to develop a comprehensive plan for a coordinated nutrition program. Then it specifies that the program must include at least two new programs of Federal grants, under which the Federal Government would make awards of taxpayers' dollars. The bill then further specifies that the comprehensive plan shall "constitute the basis on which each agency participating in the coordinated program requests authorizations and appropriations for nutrition monitoring and related research." Thus, the bill would effectively program substantial new grant funding into future Federal budgets.
Experience shows that once the Federal Government begins handing out money under a new grant program, a political constituency develops that demands greater funding for that program. Greater scrutiny should be given to the need for the proposed new grant programs before they are locked in as a future expansion of the Federal budget, especially given the likely urgent future needs in other areas of the Federal budget.
RONALD REAGAN

The White House,

November 8, 1988.
Note: The memorandum was released by the Office of the Press Secretary on November 9.
Ronald Reagan, Memorandum of Disapproval on a Bill To Establish a National Nutrition Monitoring and Related Research Program Online by Gerhard Peters and John T. Woolley, The American Presidency Project https://www.presidency.ucsb.edu/node/252811