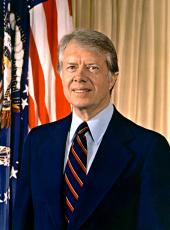 Memorandum of Disapproval of a Bill Concerning Tax Structure in United States Territories
I have withheld my approval of H.R. 13719, which would have authorized special Federal payments to Guam and the Virgin Islands to offset the local revenue losses during calendar years 1978 through 1982 caused by the Revenue Act of 1978.
Because income taxes paid by territorial residents to the governments of Guam and the Virgin Islands are based on the U.S. Internal Revenue Code, tax changes intended to reduce Federal income tax liabilities in the United States have a corresponding effect in reducing territorial tax liabilities. H.R. 13719 would have authorized direct grants to the territories to offset revenue losses associated with the 1978 tax Act.
While recognizing the defects in the current territorial tax structures which H.R. 13719 was designed to alleviate, particularly the effects of periodic Federal tax reductions on local revenues, I do not believe the bill provides an acceptable long-range solution. By replacing reasonable local tax efforts with direct Federal payments, the bill is simply another attempt to manage territorial deficits without addressing the underlying economic and financial problems which have led to those deficits. We can no longer afford a piecemeal approach to the growing revenue problems of the territories.
Accordingly, although I am disapproving H.R. 13719, I am directing the Secretaries of the Interior and the Treasury to study the financial situation of both the Virgin Islands and Guam and to recommend a plan designed to help those governments achieve a higher degree of financial stability without perpetuating a piecemeal system which is costly to the Federal government and which does not sufficiently encourage responsible financial management in these territories.
JIMMY CARTER
Jimmy Carter, Memorandum of Disapproval of a Bill Concerning Tax Structure in United States Territories Online by Gerhard Peters and John T. Woolley, The American Presidency Project https://www.presidency.ucsb.edu/node/243969