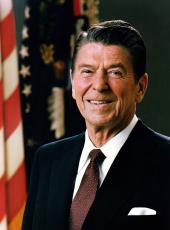 Memorandum on Determination Under Section 301 of the Trade Act of 1974
Memorandum for the United States Trade Representative
Pursuant to Section 301 of the Trade Act of 1974, a amended (19 U.S.C. 2411), I have determined that the quantitative restrictions on oilseeds, oilseed products and grains in Portugal and the uncompensated withdrawal of tariff concessions on corn and sorghum in Spain deny benefits to the United States (GATT), are unreasonable, and constitute a burden and restriction on U.S. commerce. Pursuant to Section 301 of the Trade Act, I have determined, in response to the EEC's quantitative restrictions in Portugal, to proclaim certain quantitative restrictions on products of the European Economic Community. I have further determined, in response to the EEC's withdrawal of tariff concessions on corn and sorghum in Spain, to suspend United States Tariff concessions on certain products, although current rates of duty will be maintained for the time being, pending efforts to negotiate suitable compensation. I am taking these actions to enforce U.S. rights and to respond to the EEC practices in question.
Reasons for Determination
As part of the arrangements for the accession of Portugal and Spain to the EEC, the EEC: (1) has imposed restrictions on the importation into Portugal of oilseeds and oilseed products and on the consumption of vegetable oils (other then olive oil) in Portugal; (2) has required that a specified portion of Portuguese imports of grains be reserved for suppliers from other member countries of the EEC; and (3) has withdrawn Spanish tariff concessions and imposed variable levies on imports of corn and sorghum. These EEC actions apply from March 1, 1986. The average annual value of U.S. exports affected by the EEC actions exceeded a billion dollars in the 1981-1983 period.
In discussions with the EEC, we have sought the removal of the restrictions in Portugal, which we consider to be inconsistent with the General Agreement on Tariffs and Trade (GATT). We are also seeking, in accordance with our rights under GATT, appropriate compensation from the EEC for the tariff and variable levy actions in Spain.
On March 31, 1986, I announced that I would impose restrictions on imports of EEC products of comparable effect to the EEC's restrictions in Portugal unless and until we were able to resolve these matters. Efforts to obtain a satisfactory resolution have not yet been successful. I also announced that, in response to the EEC's tariff and levy actions in Spain, I would withdraw U.S. tariff commitments in GATT on certain products, but would maintain the current level of tariffs in order to allow until July 1 for expedited negotiation of agreed compensation from the EEC. I will proclaim increased duties as appropriate if such agreement is not possible. To the degree those negotiations are successful, I will restore concessions.
I am taking these actions to enforce U.S. trade rights on important export interests. I would strongly prefer a solution that would restore and encourage trade for all parties, and we will continue negotiation efforts toward this goal.
This determination shall be published in the Federal Register.


RONALD REAGAN
THE WHITE HOUSE,
Washington, May 15, 1986.
Ronald Reagan, Memorandum on Determination Under Section 301 of the Trade Act of 1974 Online by Gerhard Peters and John T. Woolley, The American Presidency Project https://www.presidency.ucsb.edu/node/323392