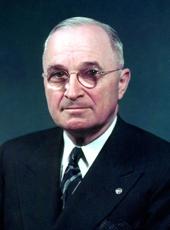 Memorandum to Agency Heads on the Channeling of Federal Procurement, etc., Programs to Areas of Economic Distress.
To members of the Cabinet, Chairman, Council of Economic Advisers, Director, Bureau of the Budget, Chairman, Atomic Energy Commission, Administrator for Economic Cooperation, Administrator for General Services, Administrator, Housing and Home Finance Agency, Chairman, United States Maritime Commission, Chairman, Reconstruction Finance Corporation, Chairman, Board of Directors, Tennessee Valley Authority, Administration, Administrator, Federal Security Agency:
In my recent Economic Report to the Congress, I make the following statement:
"There are a number of Federal programs of direct action or assistance to localities which can be timed and channeled so as to concentrate upon areas where unemployment is heavy without sacrifice of general national objectives. This principle of wise selectivity is particularly applicable to procurement and construction activities, but it is also relevant to other grant of loan programs designed to stimulate private enterprise or to effect public improvements. Toward this end, I am directing that a continuing review of such activities be undertaken within the Executive Office, in order to coordinate planning, to keep the various types of activity and their geographic distribution in proper balance and readiness, and to focus emphasis upon alleviating unemployment in particular areas where it becomes serious before it has a chance to spread. I am also having a study made of possible changes in the laws governing these activities which may be needed for these purposes."
I have asked the Assistant to the President, Dr. John R. Steelman, to assume responsibility for directing these activities. I should appreciate your assisting him by making available all relevant information regarding the activities of your agency, together with such specialized staff assistance as he may require.
I shall also appreciate your cooperation with Dr. Steelman in taking actions to modify, within the limits of existing law, the procurement, construction, and other activities of your agency where it is determined to be feasible, in order to alleviate serious unemployment in particular localities.
HARRY S. TRUMAN
Note: On August 9 the White House released a letter from Dr. Steelman to agency heads listing the labor market areas in which unemployment was high and requesting them to channel construction and procurement into such areas.
In a report to the President released December 1, Dr. Steelman made the following statement:
"During most of July, August, and September, attention was directed to 32 areas in 14 States where unemployment had reached 12 percent or more of the total labor force. In September, three new areas were added. Of these 35, only 10 are classified as major labor market areas, while the remaining 25 are of limited population--under 200,000 and 90 percent was spread over the country at a lesser percentage rate."
Harry S. Truman, Memorandum to Agency Heads on the Channeling of Federal Procurement, etc., Programs to Areas of Economic Distress. Online by Gerhard Peters and John T. Woolley, The American Presidency Project https://www.presidency.ucsb.edu/node/229713