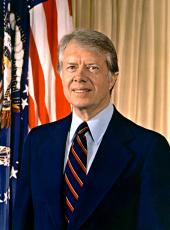 Meeting With Vice Admiral Alfredo Poveda Burbano of Ecuador Remarks to Reporters Following the Meeting With the President of the Supreme Council of the Government of Ecuador
REPORTER. Mr. President, would you like to make any comment on your meeting with President Poveda?
THE PRESIDENT. I would be glad to. We had a very thorough discussion .about matters that are of mutual importance to us, the common commitment that we have with the people and leaders of Ecuador for the enhancement of human rights, and our thanks to the leaders of Ecuador for supporting our strong position in improving human rights taken in the last Organization of American States meeting.
We also are very excited and pleased to see the move of the leaders of your country toward democratic elections that will commence perhaps next year. And we congratulated Admiral Poveda on this decision.
We discussed the statement by the Peruvian President that additional purchase of arms and weapons by Peru was not planned, the gratitude that we have for improved relationships between Ecuador and Peru. We discussed the future possibility of access by Ecuador to the Amazon River, although the prospects are not good at this point. The discussions, I think, will be accelerated in the future.
We discussed the delivery of landing craft from our country to Ecuador and the upcoming delivery of a new destroyer. And I also expressed my thanks that the desire of Ecuador for army and navy equipment was obviously predicated on defense of your country and not offense against any other nation.
We reemphasized our appreciation to the people of Ecuador for supplying oil to our country during the 1973 embargo and the gratitude that we feel for this expression of friendship to us.
We had long discussions about these items, and I think the meetings were very helpful to me in understanding the special problems and opportunities that exist in Ecuador.
We discussed other matters--oil exploration, enhancement of your port facilities, construction of new highways, the high percentage of your national budget that's spent for education, improvement of health care. These kind of things are very good for us to see.
REPORTER. Thank you very much, Mr. President.
THE PRESIDENT. Thank you again.
Note: The exchange began at 12:10 p.m. on the South Grounds of the White House.
The transcript of the remarks was made available by the White House Press Office. It was not issued in the form of a White House press release.
Jimmy Carter, Meeting With Vice Admiral Alfredo Poveda Burbano of Ecuador Remarks to Reporters Following the Meeting With the President of the Supreme Council of the Government of Ecuador Online by Gerhard Peters and John T. Woolley, The American Presidency Project https://www.presidency.ucsb.edu/node/241675