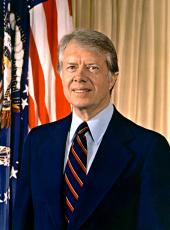 Meeting With President Ziaur of Bangladesh Joint Statement.
President Carter and President Ziaur Rahman of Bangladesh met for one hour today. The two Presidents held a wide-ranging discussion on bilateral and international matters. Others participating in the talks included Foreign Minister Shamsul Huq, Agriculture Minister Nurul Islam, Information Consultant Daud Khan Majlis, Ambassador Tabarak Husain and Additional Foreign Secretary Ataul Karim for Bangladesh and, for the United States, Edmund Muskie, Secretary of State; Zbigniew Brzezinski, Assistant to the President for National Security Affairs; Thomas Ehrlich, Director of the International Development Cooperation Agency; and David Schneider, Ambassador to Bangladesh.
The two Presidents reviewed bilateral relations and discussed regional and international issues of mutual concern. They agreed to work for upholding the principles of the United Nations Charter and expressed opposition to foreign armed intervention or interference of any kind in the internal affairs of any country and called for the immediate withdrawal of all foreign troops from Afghanistan and Kampuchea. They also discussed the Middle East problem and stressed the need for a comprehensive and peaceful settlement of this problem at an early date.
President Ziaur Rahman thanked President Carter for the meaningful role played by the U.S. in economic cooperation with Bangladesh. He described the various measures adopted for social, political and economic development in Bangladesh including restoration of democracy and also the launching of the new Five Year Plan. President Carter expressed his personal admiration for the economic and political progress Bangladesh has made under President Ziaur Rahman's leadership and assured him of all possible cooperation in the successful implementation of the second Five Year Plan.
Both Presidents noted with satisfaction the excellent state of relations between the two countries and agreed to work to further improve the friendship and understanding which already exist.
Jimmy Carter, Meeting With President Ziaur of Bangladesh Joint Statement. Online by Gerhard Peters and John T. Woolley, The American Presidency Project https://www.presidency.ucsb.edu/node/251992