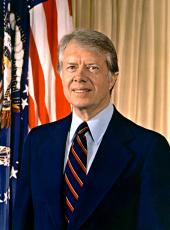 Meeting With President Hugo Banzer Suarez of Bolivia Remarks to Reporters Following the Meeting
THE PRESIDENT. Well, we had a very thorough discussion with President Banzer of the good relationships between ourselves and your country. We examined the maps of the possible route to the sea for Bolivia, just north of Arica in Chile.
And our hope is that Bolivia, Chile, and Peru can agree on some corridor which will permit Bolivia to have direct access to the sea on Bolivian territory.
We have no authority over the nations involved, but we have expressed our hope to Presidents Pinochet and Morales Bermudez that this might be accomplished.
We also discussed the progress that Bolivia has made in reducing the traffic in drugs, particularly cocaine, that comes to North America.
And I expressed my sincere hope that the Americans who are in Bolivian prisons and who have not yet been tried might have their cases examined very soon. Three of these prisoners are very ill. And we hope that within the bounds of Bolivian law, that their cases might be resolved very early.
This is a serious problem in our country. The parents of these prisoners, and families, have aroused a great deal of interest among American citizens, and President Banzer, I think, will take a personal interest, within the framework of Bolivian law, that attention will be given to their case.
We have good relations with Bolivia. And we appreciate the cooperation that has been evidenced between the Bolivian people and our people.
We expect good progress to be made in return of the political processes to civilian rule, hopefully by 1980 or before. President Banzer reemphasized his commitment to this process.
Q. Mr. President, what is the outlook for the sea corridor, as you see it
THE PRESIDENT. No, I think there is a hope that President Banzer can meet with the Presidents of Peru and Chile, and what the prospects might be for success, I really don't know. But we have wished him well.

REPORTER. Thank you very much.
THE PRESIDENT. Thank you.
Note: The President spoke at 2 p.m. on the South Grounds of the White House.
The transcript of the remarks was made available by the White House Press Office. It was not issued in the form of a White House press release.
Jimmy Carter, Meeting With President Hugo Banzer Suarez of Bolivia Remarks to Reporters Following the Meeting Online by Gerhard Peters and John T. Woolley, The American Presidency Project https://www.presidency.ucsb.edu/node/241683