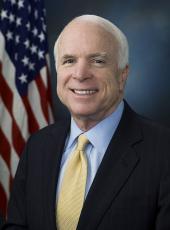 McCain Campaign Press Release - John McCain's Strategy For Confronting Global Climate Change
Today, In Oregon, John McCain Addressed The Threat Of Global Climate Change And Outlined His Strategy To Lead America To Meet Its Obligations As A Steward Of This Planet. John McCain will establish a market-based system to curb greenhouse gas (GHG) emissions, mobilize innovative technologies, and strengthen the economy. He will work with our international partners to secure our energy future, to create opportunities for American industry, and to leave a better future for our children.
John McCain's Principles For Climate Policy:
Climate Policy Should Be Built On Scientifically-Sound, Mandatory Emission Reduction Targets And Timetables.
Climate Policy Should Utilize A Market-Based Cap And Trade System.
Climate Policy Must Include Mechanisms To Minimize Costs And Work Effectively With Other Markets.
Climate Policy Must Spur The Development And Deployment Of Advanced Technology.
Climate Policy Must Facilitate International Efforts To Solve The Problem.
John McCain's Cap And Trade Policy:
John McCain Proposes A Cap-And-Trade System That Would Set Limits On Greenhouse Gas Emissions While Encouraging The Development Of Low-Cost Compliance Options. A climate cap-and-trade mechanism would set a limit on greenhouse gas emissions and allow entities to buy and sell rights to emit, similar to the successful acid rain trading program of the early 1990s. The key feature of this mechanism is that it allows the market to decide and encourage the lowest-cost compliance options.
How Does A Cap-And-Trade System Work? A cap-and-trade system harnesses human ingenuity in the pursuit of alternatives to carbon-based fuels. Market participants are allotted total permits equal to the cap on greenhouse gas emissions. If they can invent, improve, or acquire a way to reduce their emissions, they can sell their extra permits for cash. The profit motive will coordinate the efforts of venture capitalists, corporate planners, entrepreneurs, and environmentalists on the common motive of reducing emissions.
Greenhouse Gas Emission Targets And Timetables
2012: Return Emissions To 2005 Levels (18 Percent Above 1990 Levels)
2020: Return Emissions To 1990 Levels (15 Percent Below 2005 Levels)
2030: 22 Percent Below 1990 Levels (34 Percent Below 2005 Levels)
2050: 60 Percent Below 1990 Levels (66 Percent Below 2005 Levels)
The Cap And Trade System Would Allow For The Gradual Reduction Of Emissions. The cap and trade system would encompass electric power, transportation fuels, commercial business, and industrial business -- sectors responsible for just below 90 percent of all emissions. Small businesses would be exempt. Initially, participants would be allowed to either make their own GHG reductions or purchase "offsets" -- financial instruments representing a reduction, avoidance, or sequestration of greenhouse gas emissions practiced by other activities, such as agriculture -- to cover 100 percent of their required reductions. Offsets would only be available through a program dedicated to ensure that all offset GHG emission reductions are real, measured and verifiable. The fraction of GHG emission reductions permitted via offsets would decline over time.
John McCain Will Promote Innovating, Developing and Deploying Advanced Technologies
To Support The Cap And Trade System, John McCain Will Promote The Innovation, Development And Deployment Of Advanced Technologies. John McCain will reform federal government research funding and infrastructure to support the cap and trade emissions reduction goals and emphasize the commercialization of low-carbon technologies. Under John McCain's plan:
Emissions Permits Will Eventually Be Auctioned To Support The Development Of Advanced Technologies. A portion of the process of these auctions will be used to support a diversified portfolio of research and commercialization challenges, ranging from carbon capture and sequestration, to nuclear power, to battery development. Funds will also be used to provide provide financial backing for a Green Innovation Financing and Transfer (GIFT) to facilitate commercialization.
John McCain Will Streamline The Process For Deploying New Technologies And Requiring More Accountability From Government Programs To Meet Commercialization Goals And Deadlines.
John McCain Will Ensure Rapid Technology Introduction, Quickly Shifting Research From The Laboratory To The Marketplace.
John McCain Will Employ The Inherent Incentives Provided By A Cap-And-Trade System Along With Government-Led Competitions As Incentives For New Technology Deployment.
John McCain Will Foster Rapid And Clean Economic Growth
John McCain Believes An Effective And Sustainable Climate Policy Must Also Support Rapid Economic Growth. John McCain will use a portion of auction proceeds to reduce impacts on low-income American families. The McCain plan will accomplish this in part by incorporating measures to mitigate any economic cost of meeting emission targets, including:
Trading Emission Permits To Find The Lowest-Cost Source Of Emission Reductions.
Permitting "Banking" And "Borrowing" Of Permits So That Emission Reductions May Be Accelerated Or Deferred To More Economically Efficient Periods.
Permitting Unlimited Initial Offsets From Both Domestic And International Sources.
Effectively Integrating U.S. Trading With Other International Markets, Thereby Providing Access To Low-Cost Permit Sources.
Establishing A Strategic Carbon Reserve As A National Source Of Permits During Periods Of Economic Duress.
Early Allocation Of Some Emission Permits On Sound Principles. This will provide significant amount of allowances for auctioning to provide funding for transition assistance for consumers and industry. It will also directly allocate sufficient permits to enable the activities of a Climate Change Credit Corporation, the public-private agency that will oversee the cap and trade program, provide credit to entities for reductions made before 2012, and ease transition for industry with competitiveness concerns and fewer efficiency technology options. A commission will also be convened to provide recommendations on the percentage of allowances to be provided for free and the percentage of allowances to be auctioned, and develop a schedule for transition from allocated to maximum auctioned allowances. Cap-and-trade system will also work to maximize the amount of allowances that are auctioned off by 2050.
John McCain Will Provide Leadership For Effective International Efforts:
John McCain Believes That There Must Be A Global Solution To Global Climate Change. John McCain will engage the international community in a coordinated effort by:
Actively Engaging To Lead United Nations Negotiations.
Permitting America To Lead In Innovation, Capture The Market On Low-Carbon Energy Production, And Export To Developing Countries -- Including Government Incentives And Partnerships For Sales Of Clean Tech To Developing Countries.
Provide Incentives For Rapid Participation By India And China, While Negotiating An Agreement With Each.
John McCain Will Develop a Climate Change Adaptation Plan
John McCain Believes A Comprehensive Approach To Addressing Climate Change Includes Adaptation As Well As Mitigation. He believes:
An Adaptation Plan Should Be Based Upon National And Regional Scientific Assessments Of The Impacts Of Climate Change.
An Adaptation Plan Should Focus On Implementation At The Local Level Which Is Where Impacts Will Manifest Themselves.
A Comprehensive Plan Will Address The Full Range Of Issues: Infrastructure, Ecosystems, Resource Planning, And Emergency Preparation.
John McCain, McCain Campaign Press Release - John McCain's Strategy For Confronting Global Climate Change Online by Gerhard Peters and John T. Woolley, The American Presidency Project https://www.presidency.ucsb.edu/node/294354