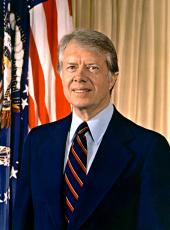 Los Angeles, California Remarks at Dedication Ceremonies for La Placita de Dolores de Los Angeles.
Thank you, Mayor Tom Bradley. Distinguished guests and [fiends, distinguished Foreign Minister of the Republic of Mexico, Mr. Roel:
I would like to say a few words in Spanish, if you will bend your ear very closely to understand my southern accent.
[At this point, the President spoke in Spanish. He then translated his remarks as follows.]
I can also speak some English.
And I'm very proud to be here to dedicate this Placita de Dolores in Los Angeles. This is the birthplace of this great city, which has the largest Spanish-speaking population in the United States. This plaza will provide a permanent resting place for the replica of the Bell of Dolores, the original of which hangs in the Capitol Building in Mexico City. As you know, this replica was presented to this city, Los Angeles, by President Gustavo Diaz Ordaz of Mexico 11 years ago.
This plaza will also give the Hispanic community—indeed all the people of Los Angeles—a gathering place, a place for exhibits by artists and craftsmen, a place for celebrations, and a place for festivals. And I'm delighted that this project, funded partially by a Federal grant, will also provide employment within the community.
Projects such as this—which meet public needs, enhance historic places, and create needed jobs—and they show what the Federal Government can do to help revitalize our cities, working in harmony with local officials and private citizens.
As we dedicate this plaza, it's good to remember the village priest, Father Miguel Hidalgo y Castilia, who rang the parish church bell, the original Bell of Dolores, to summon patriots to fight for independence. The freedom and independence that Mexico and the United States now enjoy are ours because millions of our people throughout the years have had the courage to do what was necessary, no matter what the odds might have been against their sometimes lonely efforts.
Freedom is never permanently ours, despite the noble sacrifices of past generations. We must daily rewin the fight against injustice and prejudice and ignorance, and against those in power who believe that they know better than the people what is best.
Many have died heroically that we may stand here on this beautiful day and celebrate human freedom which we enjoy. And many more have lived quietly, defending day by day against the cynical, the selfish, and the unconcerned, the principles that we hold dear—often they have done this in their homes or in their small communities, often at great cost and without any praise, without any recognition, without any glory.
I pray that we will never again have to defend our freedoms in battle with the shedding of blood, and that the love of peace which fills our hearts will at last prevail. But to survive, our system must not only beat back the sword of aggression; it must also beat back the silent hand of injustice that's armed only with our own apathy and our own timidity.
I'm committed to making sure that all the people—all the people—within our borders, no matter how they may have gotten here, are treated always with dignity and with justice. And I am also committed to protecting the basic human rights of every person in this country, whatever their legal status might be.
I will make sure, within the bounds of my authority and capability as President of the United States of America, that no one is exploited or abused, either by unscrupulous employers, unprincipled gang bosses or smugglers, who prey on poverty, ignorance, and human misery, and who sometimes even hold little children as hostages to wring a few extra dollars from empty pockets and work-worn hands.

[At this point, the President again spoke in Spanish. He then translated his remarks as follows.]
Justice and respect for each individual's rights—wherever that individual might come from—must be practiced every day by every one of us. It's not enough to be fair to most of the people most of the time. We must be fair to all, all of the time. Our own independence in the United States is meaningless without this unless it means the guaranteeing of rights of all those who dwell within our borders. It's meaning. less if it does not mean freeing the human spirit in our midst, whatever the language in which its voice, its dreams.

Thank you very much.
Note: The President spoke at 11:30 a.m. at the plaza, located in El Pueblo de Los Angeles State Historical Park.
Earlier in the day, the President attended separate meetings with Los Angeles community leaders, black leaders, and members of the California Chicano Caucus.
Jimmy Carter, Los Angeles, California Remarks at Dedication Ceremonies for La Placita de Dolores de Los Angeles. Online by Gerhard Peters and John T. Woolley, The American Presidency Project https://www.presidency.ucsb.edu/node/249121