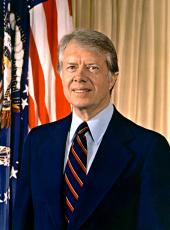 Los Angeles, California Informal Exchange With Reporters Outside the KNXT-TV Studios.
REPORTER. Mr. President, what did you think?
THE PRESIDENT. I enjoyed it.
Q. Did you?
THE PRESIDENT. Yes.
Q. Did they ask good questions? It is not really much you could do much about, is it?
THE PRESIDENT. Well, a lot of their questions are things that I can't know about, like graffiti, you know, in some of the California small towns. But it gives me a good sense of what is of concern to people.
I was impressed by the large number of questions, for instance, about health care.
Q. Would you consider those as national?
THE PRESIDENT. Well, I would consider it. We're just trying to probe around for different ways to---
Q. Do you think it would work on a national basis?
THE PRESIDENT. I would think so. I thought it worked well on the telephone call-in. But it helps me to have the questions because we read them over very carefully afterwards. We try to analyze what's on people's minds. And this was a wide range of subjects, all the way, as you noticed, from energy questions to employment opportunities to health care.
Q. Anything in particular that you took away from this today?
THE PRESIDENT. Just a feeling of closeness.
Q. They're not shy about asking tough questions, are they?
THE PRESIDENT. I noticed that.
Q. President Carter, do you plan any more of these? This is your second one now on radio and TV in a month and a half. Do you plan more?
THE PRESIDENT. I think so.
Q. Thank you, sir.
Note: The President spoke at 1: 50 p.m.
Jimmy Carter, Los Angeles, California Informal Exchange With Reporters Outside the KNXT-TV Studios. Online by Gerhard Peters and John T. Woolley, The American Presidency Project https://www.presidency.ucsb.edu/node/244360