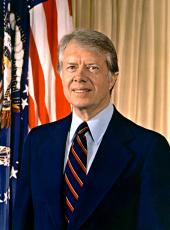 Libraries and Information Services Message to the Congress.
To the Congress of the United States:
I am pleased to transmit to you the Report of the White House Conference on Libraries and Information Services and my own recommendations on public access to information, as required by Sec. l(d) of Public Law 93-568 of December 31, 1974.
Information is the essence of education and the lifeblood of democracy. People need accurate information to make the personal and political decisions that will shape the country's future. The production and distribution of information is a significant factor in our economy. A technological explosion is reshaping the way information is stored and communicated, while rising costs and limited resources strain the public institutions that make information accessible.
The White House Conference considered all these issues. It examined our information needs and problems and the key role of libraries in meeting them. The delegates included librarians, information specialists and community leaders. They were selected at conferences in every state and territory, through a process that involved 100,000 people. I wish to commend the National Conference on Libraries and Information Services for their key role in making the Conference a success. The Conference theme was "Bringing Information to the People." Its recommendations will help us frame an information policy for the 1980's.
THE IMPORTANCE OF LIBRARIES
Since the beginning of our Nation, libraries have played an important role in providing citizens with the information they need to guide our destiny. Our First Amendment rights have been strengthened by the independent status of libraries free from government control. By preserving the records of our history and culture, libraries serve as a door into our past. As a source of the information we need to direct our lives, they also serve as a door into our future. As we plan for the information requirements of the 1980's and beyond, we should acknowledge the contributions that libraries have made and ensure they remain vital.
Most libraries are local institutions, under local control. State and local governments bear the responsibility for supporting and operating public and school libraries. I agree with the White House Conference that this principle must be maintained.
At the same time, the Federal Government has assumed a special role of helping libraries provide access to information for all. The Government also provides leadership in developing new technologies and services, and encouraging resource sharing among all types of libraries. This Federal role complements the basic responsibilities of state and local governments. My Administration has worked with Congress to fulfill that role.
To ensure that library programs get the attention they deserve, we created an Office of Libraries and Learning Technologies in the new Department of Education, headed by a Deputy Assistant Secretary.
Overall Federal support for libraries has increased by almost 30% since the beginning of my Administration. We proposed improvements in the Higher Education Act to strengthen support for library research and demonstration and training programs and for college and research libraries. We supported literacy and school library and media programs through our 1978 amendments to the Elementary and Secondary Education Act.
My 1982 budget request to Congress will reflect our response to the Conference recommendations for increased budgetary support for resource sharing among libraries; research and development in information technologies; and research libraries.
The Conference recommended a new National Library and Information Services Act to redefine the Federal role. I will submit new legislation to replace the Library Services and Construction Act which will expire in 1982. This legislation will include such issues as:

• barriers to information access for the handicapped and disadvantaged;

• library networking and resource sharing;

• the role of large urban libraries and research libraries as centers for library resource networks; and

• new information technologies.
I urge the Congress, the library community, and the public to join in the discussion during the next year on the priorities among these important concerns.
GOVERNMENT INFORMATION
The Federal Government has a special responsibility to ensure that its information is made available to the people. Open government is vital to democracy. We must also recognize the constraints of national security, privacy, efficient decision making, and costs.
We are working to address these concerns in a way that increases access to information. A new office has been established in the Office of Management and Budget to develop Federal information policy. This office is working closely with the agencies, libraries, and private sector to develop a policy on the management and dissemination of information by Federal agencies. This policy will affirm the key role of the Federal depository libraries as centers where citizens can obtain free access to government publications.

The policy will also stress the special role libraries can play in helping Federal agencies disseminate information that people need. We should not create new delivery systems when libraries, with strong community bases, can do the job. The Denver Public Library is one example of a library that is working closely with several agencies to make consumer and environmental information available. I encourage and support cooperation like this. To foster such partnership, I have directed the Administrator of the General Services Administration to work with the library community and the Department of Education to select three to five Federal Information Centers and locate them together with libraries. If this cooperative effort is as successful as I expect, I will expand the program.
My Administration has also taken a number of other initiatives to improve and enhance public access to government information. For example:
• We revamped the security classification system to eliminate needless initial classification and reduce the time that documents remain classified while strengthening protection for necessary secrets. About 250 million pages of documents will be released because of this change.
• The Freedom of Information Act is being administered fairly. The Department of Justice has instructed agencies to release information that could legally be withheld if the release could not be clearly harmful.
• Our policy on industrial innovation calls for an improvement in the dissemination of patent information, which will make over 4 million patents accessible.
• The National Technical Information Service has expanded the indexing and dissemination systems available to scientists and engineers.

• Increases were requested for the National Commission on Libraries and Information Sciences, an agency which has a vital leadership and coordination role in library and information science at the national level.
THE NEEDS OF THE DISADVANTAGED
The Conference report serves as a reminder that too many of our citizens are cut off from the information available to most of us. One of the greatest barriers is functional illiteracy. To overcome this problem, I have directed the Department of Education to take the lead in coordinating Federal efforts to eliminate functional illiteracy. Their task will be to identify methods and programs of demonstrated value and to work with local education agencies, libraries, and voluntary organizations to implement these programs. Twenty percent of our Americans are functionally illiterate, and we must expand our commitment to helping these people obtain the basic skills they need.
Under my Administration, a new Basic Skills Improvement Program was authorized in 1979. Its overall objective is to bring about national improvement in student achievement in the fundamentals of education—reading, writing, speaking and mathematics.
We are working to assist disabled Americans. At my request, the broadcasting networks helped establish a pilot closed-captioning television system to permit the hearing-impaired to share the educational and entertainment shows available to everyone. In addition, the Library of Congress and the Department of Education are working to provide special materials, equipment and services for those with physical handicaps and learning disabilities.
Another frequently overlooked barrier to information is geography. Many Americans are denied access to information because of where they live, such as an Indian reservation, a Pacific Island, or an isolated area. To address these problems and those of other persons isolated from information due to their location, I am directing the Department of the Interior to analyze these issues and provide recommendations to me.
I will soon send to the Senate a protocol to the Florence Agreement of 1952 further liberalizing the exchange of books and information and reducing barriers to international understanding. The National Commission on Libraries and Information Sciences has already begun working with the International Federation of Library Associations.
THE NEW INFORMATION AND COMMUNICATIONS TECHNOLOGIES
New technologies are revolutionizing the ways in which we create, store and disseminate information. For example, the text of 3,200 books can now be stored on a 12-inch videodisc which costs $20. In the library computers are replacing the card catalog. The sum of changes like these will have a major impact on our lives.
My Administration is actively encouraging the creative application of these technologies for the benefit of all individuals. As the largest user of computer technology in the world, the Federal government plays a major role in deciding how this technology is applied everywhere. We are using technology to provide government services, including information, in new and better ways. A number of agencies are actively involved in conducting or supporting research and development into new technologies and their application. We shall aggressively pursue such research. We also have a program to develop standards which will enhance our ability to transfer technology.
We have worked to remove regulations that prevent competition and constrain application of the new technologies. The Federal Communications Commission is completing a dramatic overhaul of its regulations, opening up competition and promoting diversity. Recent actions are creating 1000 new radio stations and a whole new class of community TV stations. We developed a program which has doubled minority ownership of broadcast stations. We are working with Congress to pass legislation to reduce regulation and promote competition in telecommunications. The explosion of outlets in the electronic media provides special opportunities for libraries. For example, libraries can work with cable TV systems to program public service channels. Competition will stimulate innovation, increase productivity, and make the communications industries more responsive to consumer demands.
Actions we have taken to realize the public dividend from the new technologies include:
—My space policy, which is helping public service producers use satellites to cut their communication costs. The Commerce Department is responsible for this program, and I am directing them to work with the library community to make satellite and other emerging communication technologies available where it is cost-effective for networking and other purposes.
—The Department of Education will support a conference of independent experts to develop an agenda for library research in the 1980's.
—The library and information science communities will be encouraged to propose technology assessment studies for consideration by Federal agencies.
As our society expands use of the new information technologies, we must protect our personal privacy. Last year I proposed the Nation's first comprehensive privacy policy. Five privacy bills are now before Congress, covering medical, bank, insurance and other types of records. Their passage is an essential ingredient to an information policy of the 1980's.
The biggest challenges rest with the library and information community. These institutions are run by talented and dedicated people with strong bases in their communities. They have contributed much, and they can do even more to meet people's needs in coping with the problems we face in the 80's. I believe we have viewed libraries too narrowly. The needs of the public who must cope with our increasingly complex society can only be met by libraries actively providing access to the great variety of information they have. Libraries can provide information to individuals about jobs and education opportunities; information to families about social services and energy; and consumer information to small business on marketing and technological innovation. Americans must be able to obtain this information in convenient, accessible, community institutions like the library. To survive as community institutions, libraries must be strengthened and the public made more aware of their potential.
We expect that the libraries will help to teach people the value of energy conservation and the ways to accomplish it; help the American people protect themselves from inflation by informed purchasing; help them to see that we live in an interrelated world which requires both America's strength but also American patience and American understanding; and, help them most of all to learn that we have to look at the world as it is and not as we remembered it 25 years ago. I have every confidence that you will meet these challenges as you have others in the past. Libraries will continue to be a critical ingredient in building a stronger, a more vibrant, a more informed America that we all hope for.
JIMMY CARTER

The White House,
September 26, 1980.
Jimmy Carter, Libraries and Information Services Message to the Congress. Online by Gerhard Peters and John T. Woolley, The American Presidency Project https://www.presidency.ucsb.edu/node/251727