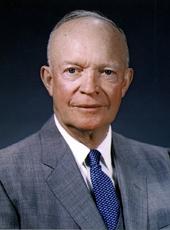 Letter to William H. Draper, Jr., Regarding Study of the United States Military Assistance Program.
Dear Bill:
I am extremely gratified by your agreement to serve as chairman of the committee I have appointed to study the United States Military Assistance Program. I request that your committee undertake a completely independent, objective, and non-partisan analysis of the military assistance aspects of our Mutual Security Program. It is appropriate, after some eight years of mutual defense effort, to evaluate the results to date, and to recommend the most suitable means whereby the free world's defenses may be insured. The study should, of course, take account of the many highly significant technological, economic and political developments since the origin of the present Military Assistance Program.
What is needed from your committee is a forthright evaluation of the extent to which future military assistance can, by strengthening our friends and allies, advance U. S. national security and foreign policy interests. In developing this study, I hope that your committee will focus on the basic purposes to be served by a Military Assistance Program and the standards and methods which can best be used in determining its levels and character.
In making this appraisal it will be necessary for your committee to consider the impact of our military assistance programs on those related portions and objectives of the mutual security effort which are directed primarily at the economic betterment and growth of the free world.
I am especially interested in your committee's critical appraisal, after considering all relevant aspects of U. S. international security programs, of the relative emphasis which should be given to military and economic programs, particularly in the less developed areas. The impact of present and anticipated weapons developments and the possibilities of stimulating such developments through cooperative activities with our allies should of course be a part of your consideration.
It would be advantageous if your committee could furnish me with some preliminary conclusions which can be taken into account in presenting the Mutual Security Program to the Congress at its next session. I am sure that this would be most helpful to me and to the Congress. However, I desire that your study and final recommendations be the product of a thoroughgoing analysis which I realize might well take longer.
The Secretaries of State and Defense and the Director of ICA are prepared to afford your committee the full cooperation of their departments and any facilities or other assistance which you may require.

Sincerely,
DWIGHT D. EISENHOWER
Note: Mr. Draper's previous services with the Government included, among others, the position of U. S. Special Representative in Europe to coordinate the Mutual Security Program for Europe and to represent the United States at the North Atlantic Treaty Council, February 1951 to May 1953.
This letter was released at Augusta, Ca.
Dwight D. Eisenhower, Letter to William H. Draper, Jr., Regarding Study of the United States Military Assistance Program. Online by Gerhard Peters and John T. Woolley, The American Presidency Project https://www.presidency.ucsb.edu/node/234366