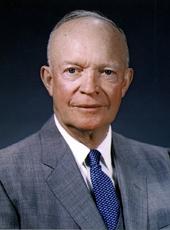 Letter to Walter Reuther, President, United Automobile Workers, CIO, Concerning Economic Growth and Stability.
[Released February 3, 1954. Dated February 1, 1954]
Dear Mr. Reuther:
I have now had an opportunity to read very carefully your letter of January thirteenth reviewing current economic conditions and renewing your proposal for a national conference on employment.
To protect and promote economic stability, we have taken and will continue to take bold steps. The Administration has now outlined a program which, taken in its entirety, is designed to sustain a high level of production and employment throughout our economy. I am well aware of those areas presently experiencing certain economic hardships during this transitional period. From the point of view of Federal action, I believe that the most important attack on these situations is from the standpoint of fostering the over-all health and vitality of our economy. It is with that principle in mind that the economic program of this Administration has been formulated.
Consultation with respect to the various parts of the Administration's program has, of course, been widespread. Continuing steps have been and are constantly being taken to re-examine the policies of the Federal Government affecting economic growth and stability. Special inquiries have been made and are being made into the problems of agriculture, housing, foreign economic policy, taxation, and the relations between Federal, State and local governments. I am gratified to know that you and other members of your group have discussed various aspects of economic growth and stability with the Council of Economic Advisers and with others in the Executive Branch. I hope that such consultations will continue on the wide range of problems that face us. At the present time, I believe this is the most fruitful method of pooling the ideas and experience of all segments of our population.
While we must recognize and seek to deal with particular instances of economic hardship as they arise, it is essential to the achievement of greater national economic strength to maintain a steady, unshakable attitude of public confidence in the capacity of the American economy for continued growth. All of our citizens in positions of leadership have the responsibility of placing in the proper perspective transitional periods such as we are presently passing through.
It is my deep conviction that we can make the transition, now underway, from a wartime to a peacetime economy without serious interruption in our growth as a nation or in the improvement of the living standards of our people. Government policy is now geared to decreasing the difficulties incident to this transition and to strengthening the weapons necessary for this task.
The Economic Report of the President, which was transmitted to the Congress on January twenty-eighth, sets forth and defines an affirmative and constructive overall approach to the problem of creating conditions favorable to sustained economic growth. We shall continue to pursue this objective with unrelenting determination.
Sincerely,
DWIGHT D. EISENHOWER
Dwight D. Eisenhower, Letter to Walter Reuther, President, United Automobile Workers, CIO, Concerning Economic Growth and Stability. Online by Gerhard Peters and John T. Woolley, The American Presidency Project https://www.presidency.ucsb.edu/node/232643