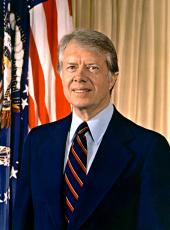 Letter to Veterans
Dear Veteran:
I believe there is a historic covenant between the people of our great country and those who have borne the pain, suffering, and wounds of war. In the past, the federal government in Washington has acted as though it could unilaterally breach this covenant at will. As a result, veterans and their widows living on pensions find themselves existing cm a pittance as inflation cuts the value of their benefits; the sick and disabled are forced to wait weeks and even months for treatment in overcrowded and understaffed VA hospitals; and the Vietnam era GI bill, which is a benefit historically available to the returning veteran, had to be passed by the Congress over the veto of Gerald Ford.
There are other examples of this administration's unconcern and neglect of the veteran. While a third of the veterans and half of the widows receiving pensions are still left with incomes below the national minimum standard of need, the administration has been willing to let inflation reduce this even further by not recommending cost of living adjustments in veterans' benefits. The unemployment rate for young Vietnam era veterans is a disgrace: 20 percent in June and an even higher 28 percent for minority veterans, and nearly 50 percent of our disabled veterans are unable to find jobs. The failure to reintegrate these young men fully into our society, after all they endured, is a disgrace and a national tragedy.
An administration which is long on rhetoric and short on programs simply trifles with the lives of others, foolishly refusing to invest in our youth returning from war, abrogating the covenant between our nation and those who stood in the first line of its defense. This is not the way to express our thanks, nor is it sensible policy. What we need—and what we will have if I am elected President—is a square deal for those who gave a great deal. As President, I will protect veterans' benefits—pensions, VA hospitals, and the GI bill—which our veterans have a right to expect If elected, I will maintain the Veterans Administration as the principal agency charged with administering veterans' programs. I will appoint to head this Administration competent, compassionate leadership who will not hesitate to speak up on behalf of the veteran, and whose first priority will be to put money and manpower into the delivery of services where it belongs. The object of my administration will be to better serve those who served. I will begin by strengthening the VA hospital system to make it capable of delivering the finest health care available, and by insuring the highest standards of rehabilitation for our disabled veterans, and I will move decisively to improve the status of those forgotten veterans who served in Vietnam—by vigorously implementing the law requiring hiring preference for the Vietnam veteran, and by taking whatever additional actions are needed to bring down veterans' unemployment. If I am elected, I will try to assure that Vietnam veterans are not forgotten but are given the same honors and benefits as those who fought in earlier wars.
Keeping faith with the historic covenant between this nation and its veterans, a square deal, and competent leadership—these will be the foundations of veterans policy in my administration. But I can't do it alone. I need your help. When I leave office, I want you to be able to say: he asked a great deal of us, but for his part, he never allowed the veteran to be forgotten.
Sincerely,
Jimmy Carter.
Jimmy Carter, Letter to Veterans Online by Gerhard Peters and John T. Woolley, The American Presidency Project https://www.presidency.ucsb.edu/node/347658