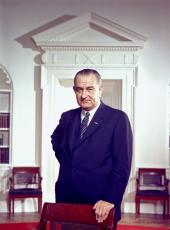 Letter to the Vice President Upon Establishing the President's Council on Equal Opportunity.
[ Released February 6, 1965. Dated February 5, 1965 ]

Dear Mr. Vice President:
I have read with interest your report on the problems involved in coordinating the many and diverse civil rights activities presently being undertaken by the departments and agencies of the Federal Government. You have summarized the situation clearly and succinctly, and I hope you will continue to play a key role in working with those department and agency heads involved in civil fights programs to the end that their activities will be consistent and productive.
I believe your recommendation that there be a comparatively simple coordinating mechanism without elaborate staff and organization is wise and I have today signed the Executive Order creating the Council on Equal Opportunity which you recommended. The direct personal contact with responsible government officers which the Council will provide should prove a most effective means of insuring cooperation, coordination and harmonious working relationships. I will, of course, expect to be kept fully informed of all activities in this area.
As we gain additional experience in implementing the Civil Rights Act of 1964 and the other related programs, I trust that you will make such suggestions and recommendations for changes and improvements as occur to you. I agree that it will be helpful to you and to others working in these fields to continue to consult with other interested groups and private individuals. The conferences of various governmental and private organizations which you propose to convene from time to time can be a constructive force in promoting our national goals of equal treatment and equal opportunity for all Americans.
There is no remaining question about the determination of the American people to eliminate the injustice and the waste of human resources that have resulted from discrimination in this country. The Executive Branch of the Federal Government has played a leading role in this effort--a role that must be continued and strengthened where necessary. I am pleased that you are personally undertaking the coordination of these programs and I am confident they will benefit from your special qualifications: your intimate familiarity with each provision of the Civil Rights Act of 1964, the skillful and fair manner in which you managed the bill through the Senate, and your long-standing commitment to equal treatment and opportunity for all without regard to race, color, creed or national origin.

Sincerely,
LYNDON B. JOHNSON
Note: The text of Executive Order 11197 establishing the President's Council on Equal Opportunity (30 F.R. 1721; 3 CFR, 1965 Supp.) was released with the President's letter.
Lyndon B. Johnson, Letter to the Vice President Upon Establishing the President's Council on Equal Opportunity. Online by Gerhard Peters and John T. Woolley, The American Presidency Project https://www.presidency.ucsb.edu/node/240578