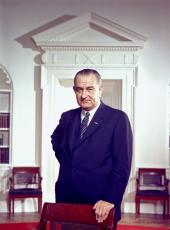 Letter to the Vice President Asking Him To Serve as Chairman, National Advisory Council of the Peace Corps.
Dear Mr. Vice President:
For three and one half years I have been happy to serve as Chairman of the National Advisory Council of the Peace Corps. Today I am asking you to accept this responsibility which has meant so much to me.
As you take on this new and additional responsibility I would like you to focus your attention on several lines of action which I hope you will follow.
First, I would like you and the National Advisory Council to convene soon a Conference of Returned Peace Corps Volunteers on or about March r, the fourth anniversary of the establishment of the Peace Corps. Over 3,000 Volunteers have already come back from two years of overseas service. They, and the nearly 10,000 Volunteers now serving in 46 countries are a major new national resource. It is time to assemble a representative group of them to discuss their role in our national life, at home and abroad. I want you to bring them together with leaders of American education, of business and labor, of community action programs, of federal, state and local government. In serious workshop sessions they should consider the opportunities for further service by the returning Volunteer in all parts of our public life--in the War on Poverty and in the Foreign Service, in our work to promote human rights at home and in our overseas AID programs, in our school classrooms and in our universities, in our unions and in private enterprise.
Second, I will count on you to help carry the message of the Peace Corps' opportunities to the four corners of this country. As the Peace Corps grows from 10,000 to 20,000 Volunteers to meet the requests and needs of other peoples, its performance must continually improve. The quality of the Volunteers-- their ability to do the work and to work with people, whether in the schoolroom or in the community--must be the best that America can offer. I hope you will carry the Peace Corps story to the graduating students and faculties of our campuses, to our skilled workmen, to doctors and nurses, to experienced teachers--to every capable citizen willing to serve his country overseas.
Third, I hope you will accept as a special concern the matter of foreign students in this country, 25,000 of whom come from countries where the Peace Corps is serving. Returning Volunteers will be interested, as I am, in helping to make the experience of these foreign guests successful in all respects, educationally and personally. I hope you, the National Advisory Council and the participants in the proposed Conference will give special attention to this opportunity for further service by returned Volunteers, and report to me your recommendations and action.
Fourth, I hope you and the Advisory Council will propose other ways to ensure that this nation makes full use of former Volunteers. I have already selected men from the Peace Corps organization more frequently than from any other government department or agency in order to staff this Administration. For the Great Society requires first of all Great Citizens, and the Peace Corps is a world-wide training school for Great Citizens.
This new assignment is exceptionally appropriate for you. You were the first member of the Senate to see the vision of the Peace Corps and to propose legislation to embody it. Moreover, this new assignment directly complements your other work with the War on Poverty and the coordination of efforts toward full civil rights for all Americans. These efforts are all concerned with human dignity. They represent the central purpose of this Administration: to open new opportunities for people.
In these last four years under Sargent Shriver's able and effective direction the Peace Corps has made history. Working with him, we can see that it continues to make history.

Sincerely,
LYNDON B. JOHNSON
[The Honorable Hubert H. Humphrey, The Vice President, Washington, D.C.]
Lyndon B. Johnson, Letter to the Vice President Asking Him To Serve as Chairman, National Advisory Council of the Peace Corps. Online by Gerhard Peters and John T. Woolley, The American Presidency Project https://www.presidency.ucsb.edu/node/241712