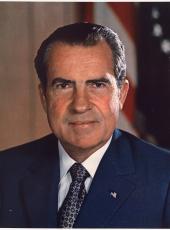 Letter to the United Nations Secretary General About West Africa Drought Relief Measures
Dear Mr. Secretary General:
I fully share the concerns which you have expressed to Ambassador Scali for the millions of persons who are suffering from the terrible drought in the Sahelian nations of West and Central Africa. For many months reports from United States and United Nations representatives and from the governments themselves have related graphically the growing effects of the worst drought of this century in the African Sahel. Those of us who have been spared this scourge have been responding to the crisis, but more must be done, as you have said. The United States stands prepared to commit further resources as needs are identified.
As you know, the United States response has been carried out on several fronts. We have increased the amounts of food grains destined for these nations through both American programs and the World Food Programs. By mid-summer, 156,000 tons of grain valued at nearly $19 million will have arrived in West African ports or in the interior states of Mali, Upper Volta, Niger and Chad. Two million dollars in disaster relief funds have also been made available. United States Air Force aircraft, and those of other donors, are airlifting grain to stricken nomads and farmers in remote districts of Mali and Chad. Animal feed and vaccines are being distributed to save as much livestock as possible. Medicines are being provided to combat malnutrition and potential epidemics. In response to a request from Director General Boerma, the Agency for International Development has provided a logistical planning expert to the Food and Agriculture Organization of the United Nations and our staffs in West Africa are being augmented to improve our ability to deliver what is needed to the right place at the right time.
We share your concern that the problems of dealing with the immediate emergency will become even more difficult as the rains begin and road transport problems increase. We therefore stand ready to provide further support for internal transport, as specified needs are identified.
As you have recognized, this region is faced not only with the immediate needs of feeding the hungry but also of rehabilitating water and forage resources, livestock herds and grain producing facilities to permit a long range recovery from the devastating effects of the drought. This effort will require close collaboration among African leaders and the donor community. As specific rehabilitation needs are more clearly identified, and as it becomes clearer what others are ready to do, the United States will be prepared to provide additional assistance for the Sahel to help overcome the profound effects of this tragedy.
In order to coordinate more effectively our emergency relief efforts and to plan our part in a rehabilitation program, I intend to designate Mr. Maurice J. Williams as a Special United States Coordinator. He will cooperate closely in his work with Director General Boerma and with other governments--so that the work of relief and rehabilitation can go forward as expeditiously as possible.
Sincerely,
RICHARD NIXON
[His Excellency Dr. Kurt Waldheim, Secretary General of the United Nations, United Nations, New York 10017]
Note: The text of the letter, dated June 20, 1973, was issued by the White House on the following day.
Richard Nixon, Letter to the United Nations Secretary General About West Africa Drought Relief Measures Online by Gerhard Peters and John T. Woolley, The American Presidency Project https://www.presidency.ucsb.edu/node/255571