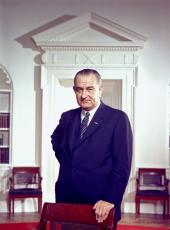 Letter to the Speaker Transmitting Proposed Supplemental Appropriations in Support of Operations in Southeast Asia.
Sir:
I have the honor to transmit herewith for the consideration of the Congress proposed supplemental appropriations for the fiscal year 1966. These appropriations, amounting to $12,760,719,000, are for the Department of Defense and for military and economic assistance primarily in support of our operations in Southeast Asia. They are required to support our growing national activities in helping the people and Government of Vietnam as they face continuing aggression. I also transmit the necessary authorizing legislation.
I urge that Congress act promptly to provide these needed funds.
We are currently engaged in a major effort to open a road to a peaceful settlement. Whether the present effort is successful or not, our purpose of peace will be constant; we will continue to press on every door.
But until there is a response--and until the aggression ends--we must do all that is necessary to support our allies and our own fighting forces in Vietnam. That is the purpose of the present request.
The bulk of this request--$12.3 billion-is for a military appropriation. These funds will provide for the operations of our men in Vietnam and the weapons, ammunition, ports and airfields which should be available to support them if the aggression continues.
We need about $4 billion of this amount for military expenditures such as ammunition and about $8 billion for items with a "long lead time." Items with long lead time (the time it takes the contractor to make the item once he receives the order) range from about a year for helicopters, to fourteen to eighteen months for jet aircraft like the A-4E "Sky Hawk" and the A-6A "Intruder," and up to three to five years for ships.
We hope the aggression will end; we must be prepared if it does not. This military appropriation request also includes about $200 million which will be applied to military assistance for the forces of South Vietnam and other allies fighting there. This method of appropriation will permit our commanders in Vietnam to simplify and expedite supply operations for all fighting forces there.
An additional sum of $415 million is requested for the Agency for International Development, again primarily for Vietnam. These economic appropriations are for import financing, for rural construction, for port expansion, for refugee relief and for development. They have an equal basic importance with our military effort itself. On the military side we do what aggression requires. On the economic and social side we work also for the true future of South Vietnam.
In the last two years, in repeated acts of authorization and appropriation, the Congress has provided continuing support for our national decision "to prevent further aggression" in Southeast Asia. The quoted words come from the Joint Resolution of the Congress--Public Law 88-408--approved on August 10, 1964. It is in the letter and the spirit of the Resolution that I request this supplementary appropriation. While that Resolution remains in force, and until its obligations are discharged, we must persevere. I believe the Resolution is right, and I believe the course we follow is necessary. I intend that those who must face danger and death as we follow that course shall be supported. I am confident that the Congress will agree.
This is an opportunity for us to demonstrate once again--to friend and foe alike-that there is no difference between one party and another or between the Congress and the Executive Branch when it comes to effective and sustained support of our fighting men and their allies. Whatever differences there are on other issues, we are as one in support of our men in Vietnam. As I said just one week ago, "Until peace comes, or if it does not come-- we will give our fighting men what they must have: every gun, every dollar, and every decision--whatever the cost or whatever the challenge." And we will continue to help the people of South Vietnam and our allies in resisting aggression and in protecting the independence of that beleaguered country.

Sincerely,
LYNDON B. JOHNSON

[The Speaker of the House of Representatives]
Note: The following items were made public with the press release containing the text of the President's letter:
1. A bill "To authorize appropriations during the fiscal year 1966 for procurement of aircraft, missiles, naval vessels, and tracked combat vehicles and research, development, test, and evaluation for the Armed Forces and for other purposes."
2. A bill "To authorize certain construction in support of military activities in Southeast Asia, and for other purposes."
3. A bill "To amend further the Foreign Assistance Act of 1961, as amended, and for other purposes" together with a section by section analysis of the bill's provisions.
4. A letter to the President from the Director, Bureau of the Budget, submitting for his consideration and recommending transmittal to the Congress of the proposed supplemental appropriations.
On March 15 the President approved the supplemental military authorization bill (see Item 128) and on March 25 the Supplemental Defense Appropriation Act, 1966 (Public Laws 89-367, 89-374; 80 Stat. 36, 79).
The recommended amendments to the Foreign Assistance Act of 1961 were approved March 18 (Public Law 89-371, 80 Stat. 74).
In his letter the President referred to the joint resolution of Congress of August 10, 1964, "to promote the maintenance of international peace and security in Southeast Asia" (Public Law 88408, 78 Stat. 384).
Lyndon B. Johnson, Letter to the Speaker Transmitting Proposed Supplemental Appropriations in Support of Operations in Southeast Asia. Online by Gerhard Peters and John T. Woolley, The American Presidency Project https://www.presidency.ucsb.edu/node/239340