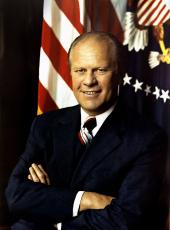 Letter to the Speaker of the House Urging Resumption of United States Military Assistance to Turkey.
Dear Mr. Speaker:
I wish to share with you my concern about a complex foreign policy problem that relates to the deteriorating situation in the Eastern Mediterranean, the threat to our North Atlantic Alliance relationships, the plight of the people of Cyprus and the role of the United States. Both the Congress and the Executive Branch share a responsibility to reexamine this critical situation with care. This is not a partisan matter or one where the rights and wrongs of a decades-old dispute can easily be judged--particularly by outsiders. Our overriding objective must be to help in the peaceful settlement of a problem that involves two valued Allies and a people whose history as an independent nation has been riven by strife.
The strategic situation must also be weighed. At a time of uncertainty in the Middle East, we should consider carefully any action which could add to the tensions that already exist. Our facilities in Turkey and our mutual defense arrangements have played and continue to play a vital role in the security of the area and, more directly, in the security of our own forces. Mutual defense links that have stood us well for thirty years should not be lightly cast aside.
I have spent much time studying these issues and have talked in Brussels with the leaders of Turkey and Greece. I am convinced that U.S. and Western security interests require the urgent passage by the House of legislation enabling the resumption of our long-standing security relationship with Turkey. The Senate has already acted favorably on a bill to accomplish this purpose.
Existing legislation passed by Congress last December 18, with an effective date of February 5, 1975, has been in force for nearly five months. This action has: (1) called into question the ability of an Ally to continue to fulfill its essential NATO responsibilities, thus undermining NATO's strength in the Eastern Mediterranean; (2) jeopardized vital common defense installations which Turkey and the U.S. jointly maintain; (3) contributed to tensions which are not helpful to Greece; and (4) reduced American influence to move the Cyprus negotiations toward a peaceful conclusion acceptable to all parties.
The legislation voted against Turkey last December is sweeping in its effect. It is more extensive than similar legislation enacted in October, 1974, with which the Administration was in full compliance. The December legislation provides for not only a total embargo on grant military assistance, and cash and credit sales of defense items by the U.S. Government, but prohibits as well the issuance of licenses to permit the export of military equipment purchased from American firms. Practically all nations of the world can purchase in this country at least some items that are forbidden to Turkey. It is now impossible for Turkey to procure most items produced in third countries under U.S. license; nor can Turkey even take possession of merchandise in the U.S. which it paid for prior to February 5 and which is now ready for shipment. The result is that a relationship of trust and confidence with this important NATO Ally, built up over many years, has been seriously eroded. Continuation of the embargo risks further deterioration, jeopardizing our security interests throughout the Eastern Mediterranean area.
For all these reasons, it is my strong view that the Administration and the Congress must join in legislative action that will remedy the present situation. The form that legislation should take to achieve this end is for Congress itself to decide, but it is clear that only legislation can produce the actions which are necessary in this case.
I know that in the minds of many in the Congress there remains the issue of how American-supplied arms were used last summer. The Cyprus problem is one where neither moral nor legal judgments, on the arms issue or any other, can be easily or lightly made. Yet, the effect of the embargo is to ascribe blame totally to one of the parties in a dispute that has its roots in centuries of animosity and for which both sides must share some responsibility.
Where we can all agree, and where I believe we must all act together, is in our sense of anxiety and concern over the Cyprus problem and in a consensus that the only way to achieve what we all seek--a just and broadly acceptable settlement--is through negotiations in which we maintain maximum flexibility with all the parties. Unless some progress is made in the negotiations, the humanitarian plight facing the people of Cyprus, including particularly the refugee problem, cannot be solved.
The United States will continue to work, at it has done continuously since last July, as hard and as determinedly as possible to move the parties of the Cyprus conflict toward a negotiated settlement. Recent U.S. diplomatic activity in Ankara, Athens and Brussels has contributed to the start of a Greek-Turkish dialogue which has defused the tense situation and hopefully laid the groundwork for Greek-Turkish cooperation.
As we pursue our efforts, we want the continued friendship of both Greece and Turkey, and our sympathy and concern extend to all the people of Cyprus. We want an end to human suffering and misery, and the rebuilding of an island where all can live in freedom and security.
At present, our ability to urge this view persuasively is compromised by the erosion of our influence. I ask the Congress' cooperation and assistance, therefore, in enacting legislation which will assure that America's influence is not further weakened and U.S. interests further threatened at this time of critical concern in Cyprus and throughout the Eastern Mediterranean.

Sincerely,
GERALD R. FORD
[The Honorable, The Speaker of the House of Representatives, Washington, D.C. 20515]
Gerald R. Ford, Letter to the Speaker of the House Urging Resumption of United States Military Assistance to Turkey. Online by Gerhard Peters and John T. Woolley, The American Presidency Project https://www.presidency.ucsb.edu/node/257373