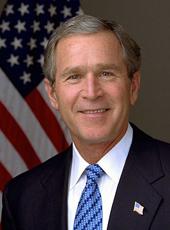 Letter to the Speaker of the House of Representatives Transmitting a Supplemental Appropriations Request for Ongoing Military and Intelligence Operations in Iraq, Afghanistan, and Elsewhere
Dear Mr. Speaker:
Two years ago, we responded to attacks on America by launching a global war against terrorism that has removed gathering threats to America and our allies and has liberated the Iraqi and Afghan people from oppression and fear.
America is making steady progress in the war on terror. Nearly two-thirds of al Qaeda's leadership has been captured or killed. In Afghanistan, we removed the Taliban from power and shut down terrorist training camps. In Iraq, we led a coalition that removed a dangerous tyrant who sponsored terror, possessed and used weapons of mass destruction, and for 12 years defied the clear demands of the United Nations Security Council.
Today, I am submitting a request for 2004 supplemental appropriations for ongoing military and intelligence operations in Iraq, Afghanistan, and elsewhere. Our men and women in uniform, alongside our coalition partners, are bringing peace and stability to Iraq and fighting the terrorist threat. In Afghanistan, our Armed Forces continue to track down terrorists and provide security as the Afghan people rebuild their nation. Our commitment to ongoing operations against terrorism is worthy of our country and critical to our security.
My request also supports the Coalition Provisional Authority's reconstruction operations in Iraq and supports reconstruction efforts in Afghanistan. These reconstruction funds are essential to secure the transition to self-government and to create conditions for economic growth and investment. By helping the Iraqi and Afghan people build free and democratic nations, America and our allies are bringing freedom and hope to a troubled region, and undermining a key base of operations for terrorists. The sooner we achieve these conditions, the sooner our troops will return home.
This request reflects urgent and essential requirements. I ask the Congress to appropriate the funds as requested, and promptly return the bill to me for signature. I hereby designate the specific proposals in the amounts requested herein as emergency requirements. I urge the Congress not to attach items that are not directly related to the emergency abroad.
The details of the request are set forth in the enclosed letter from the Director of the Office of Management and Budget.
Sincerely,
GEORGE W. BUSH
NOTE: An original was not available for verification of the content of this letter.
George W. Bush, Letter to the Speaker of the House of Representatives Transmitting a Supplemental Appropriations Request for Ongoing Military and Intelligence Operations in Iraq, Afghanistan, and Elsewhere Online by Gerhard Peters and John T. Woolley, The American Presidency Project https://www.presidency.ucsb.edu/node/212653