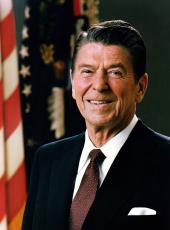 Letter to the Speaker of the House of Representatives and the President Pro Tempore of the Senate on United States Military Action in the Persian Gulf
Dear Mr. Speaker: (Dear Mr. President:)
At approximately 11:30 a.m. (EDT), July 12, 1988, a Panamanian tanker (Japanese owned) sent out a distress call reporting it was under attack by two small boats and in need of assistance. Units of the U.S. Middle East Joint Task Force, responding to the ship's distress call, dispatched five U.S. helicopters to an area approximately 23 nautical miles west north west of Farsi Island in the Northern Persian Gulf. Two of the helicopters, while on their way to provide assistance, observed two small boats heading towards Farsi Island. As they closed to identify visually the boats, the boats fired at the U.S. helicopters. This hostile action posed an immediate and direct threat to the safety of the helicopters. Accordingly, acting in serf-defense, the helicopters returned fire, firing rockets and machine gun rounds at the small boats, which then left the scene. At this time it is believed that one of the boats may have been hit with a rocket. The extent of damage to the boat is unknown. There were no casualties or damage to U.S. forces; the tanker caught fire as a result of the attack.
The actions of U.S. forces in response to being attacked by the Iranian small boats were taken in accordance with our inherent right of self-defense, as recognized in Article 51 of the United Nations Charter, and pursuant to my constitutional authority with respect to the conduct of foreign relations and as Commander in Chief. There has been no further hostile action by Iranian forces, and, although U.S. forces remain prepared to take additional defensive action to protect our units and military personnel, we regard this incident as closed.
Since March 1987, I and members of my Administration have provided to Congress letters, reports, briefings, and testimony in connection with developments in the Persian Gulf and the activities of the U.S. Armed Forces in the region. In accordance with my desire that Congress continue to be fully informed in this matter, I am providing this report consistent with the War Powers Resolution. I look forward to cooperating with Congress in the pursuit of our mutual, overriding aim of peace and stability in the Persian Gulf region.

Sincerely,
RONALD REAGAN
Note: Identical letters were sent to Jim Wright, Speaker of the House of Representatives, and John C. Stennis, President pro tempore of the Senate.
Ronald Reagan, Letter to the Speaker of the House of Representatives and the President Pro Tempore of the Senate on United States Military Action in the Persian Gulf Online by Gerhard Peters and John T. Woolley, The American Presidency Project https://www.presidency.ucsb.edu/node/254134