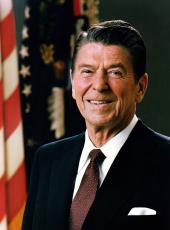 Letter to the Speaker of the House of Representatives and the President Pro Tempore of the Senate on the United States Air Strike in the Persian Gulf
Dear Mr. President: (Dear Mr. Speaker:)
For nearly forty years, the United States has maintained a limited naval presence in the Persian Gulf to provide for the safety of U.S.-flag merchant vessels engaging in peaceful activities in international waters and for other reasons essential to the national security. This has been done pursuant to the President's authority as Commander-in-Chief. Our presence in the Persian Gulf has been fully within our rights under international law. Our forces have respected all relevant international rules of conduct, and provided no basis in law for hostile action against them.
At approximately 2:50 p.m. (EDT) on October 8, 1987, three helicopters of the U.S. Middle East Joint Task Force, while on routine nighttime patrol over international waters of the Persian Gulf, were fired upon without warning by three (possibly four) small Iranian naval vessels. This unprovoked attack posed an immediate and direct threat to the safety of the helicopters and their crewmen. Accordingly, acting in self-defense and pursuant to standing Peacetime Rules of Engagement for the region, the helicopters returned fire with rockets and machine guns. Three Iranian vessels were hit, and one of them subsequently sank. No U.S. personnel were injured in this brief exchange of fire.
U.S. patrol boats were dispatched to the scene and recovered six Iranian crewmen from the water. Although all available medical care was provided, two of the crewmen subsequently died. The four surviving crewmen currently are aboard the USS RALEIGH. Two of them are seriously injured, and all are receiving complete medical evaluation and treatment. When the survivors are capable of being moved, efforts will be made to repatriate them through a third country with the assistance of an appropriate humanitarian organization.
At approximately 3:30 p.m. (EDT), another helicopter belonging to the U.S. Middle East Joint Task Force was performing surveillance operations over international waters of the Persian Gulf in the vicinity of an oil platform under Iranian control. Although the helicopter observed fire from an unidentified source, it is not clear that the fire was directed at the U.S. aircraft and U.S. forces did not return fire.
U.S. forces, which sustained no damage or casualties, have returned to their prior state of alert readiness in carrying out the standing Peacetime Rules of Engagement for the Persian Gulf region. Although they will remain prepared to take any additional defensive action necessary to protect U.S. forces and U.S. hives, there has been no further hostile action by Iranian forces and we regard this incident as closed.
The limited defensive action described above was taken in accordance with our right of self-defense under Article 51 of the United Nations Charter, and pursuant to my constitutional authority with respect to the conduct of foreign relations and as Commander-in-Chief.
Since March 1987, I and members of my Administration have provided to Congress letters, reports, briefings, and testimony in connection with developments in the Persian Gulf and activities of U.S. Armed Forces in that region. In accordance with my desire that Congress continue to be fully informed in this matter, I am providing this report consistent with the War Powers Resolution. While mindful of the historical differences between the Legislative and Executive branches of government, and the positions taken by me and all my predecessors in office, with respect to the constitutionality of certain provisions of the Resolution, I look forward to cooperating with Congress in pursuit of our mutual, overriding aim of peace and stability in the Persian Gulf region. In this connection, I regard the continued presence of U.S. Armed Forces to be essential to achievement of that aim.

Sincerely,
RONALD REAGAN
Note: Identical letters were sent to Jim Wright, Speaker of the House of Representatives, and John C. Stennis, President pro tempore of the Senate.
Ronald Reagan, Letter to the Speaker of the House of Representatives and the President Pro Tempore of the Senate on the United States Air Strike in the Persian Gulf Online by Gerhard Peters and John T. Woolley, The American Presidency Project https://www.presidency.ucsb.edu/node/251819