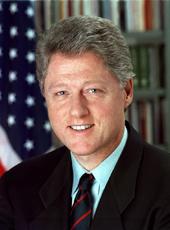 Letter to the Speaker of the House on Emergency Supplemental Appropriations Requests
Dear Mr. Speaker:
My Fiscal Year 1996 Budget requests $10.4 billion in supplemental appropriations for the current fiscal year. Much of the request is for emergency requirements, such as contingency operations of the Department of Defense and disaster relief provided by the Federal Emergency Management Agency. My Budget also proposes to reduce low-priority spending in FY 1995 by $2.4 billion, primarily to pay for nonemergency supplemental requests.
I was disappointed to receive your February 7, 1995 letter indicating your intent to delay action on several of these emergency requests until the Administration proposes offsets. I am particularly concerned about my request for $6.7 billion for FEMA Disaster Relief, all of which is properly designated as an emergency, under the terms of the Budget Enforcement Act of 1990.
The Budget Enforcement Act established the authority for the President and Congress to exempt certain spending from the statutory caps, specifically for the purpose of meeting emergency, unanticipated requirements. This joint designation by the President and Congress has been used over the last four years to provide critical assistance in response to earthquakes, hurricanes, floods, extreme cold and agricultural disasters, and for other purposes.
President Bush and Congress approved $10.2 billion as emergency spending in response to Hurricanes Andrew and Iniki in Florida, Louisiana and Hawaii. In fact, from 1991-1992, President Bush and Congress provided emergency funding for 100 accounts, totalling $12.3 billion.
I worked with Congress to provide $6.8 billion in emergency funding to aid the victims of the Midwest floods in nine states. I also reached agreement with Congress to designate emergency spending for the Northridge earthquake.
The emergency designations were appropriate because the human and physical costs of these disasters were extraordinary and the economic effects were truly national in scope.
Of the pending $6.7 billion FEMA request, $4.9 billion is related to the Northridge earthquake. Over 700,000 people were affected. Approximately 120,000 structures, including schools, hospitals, municipal buildings and private residences, were damaged. Almost 40 miles of roads and freeways were rendered impassable.
Following the January 17, 1994 earthquake, I responded with a request for emergency supplemental funding on January 26. Congress quickly responded to the urgent needs of the Southern California region and I promptly signed the emergency legislation on February 12, just 26 days after the earthquake.
The nation should be proud of our rapid response. All of the damaged highways were reopened to traffic within 10 months. Virtually all of the 6,000 school buildings that were damaged have reopened. Over 113,000 loans have been made to small businesses and homeowners, and FEMA disaster housing assistance has been provided to over 400,000 households.
Because of the need to respond quickly to the earthquake, FEMA's damage estimates were necessarily preliminary. Our revised request is based on the more detailed studies that are required of damaged structures.
If action on our request is delayed, FEMA will, beginning in May, be unable to allocate funds to meet any new disaster requirements, unless money reserved for the 40 states currently receiving disaster assistance is cut. For example, emergency appropriations provided in FY 1994 are currently being used to fund assistance to people, businesses and local governments impacted by Tropical Storm Alberto in Georgia, the Midwest floods, the Texas floods and the recent floods in California. If action is further delayed until July, FEMA will run out of money.
While I share your concern for reducing the deficit, I do not believe we should delay assistance to victims of natural disasters. I am proud of my Administration's record for reducing the deficit, while providing prompt assistance to the victims of natural disasters. When responding to crises, America has traditionally come together without regard to politics or region. In that spirit, I urge you to reconsider your decision.
Sincerely,
BILL CLINTON
William J. Clinton, Letter to the Speaker of the House on Emergency Supplemental Appropriations Requests Online by Gerhard Peters and John T. Woolley, The American Presidency Project https://www.presidency.ucsb.edu/node/288422