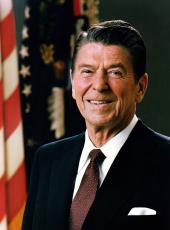 Letter to the Speaker of the House and the President of the Senate on the Provision of Credit Facilities to the Bank of Mexico
Dear Mr. Speaker: (Dear Mr. President:)
In accordance with the provisions of Section 10 of the Gold Reserve Act of 1934, as amended (31 U.S.C. 822a), I determined on August 24, 1982, that the United States, through the Exchange Stabilization Fund of the Department of the Treasury ("ESF"), should stand ready to provide to the Bank of Mexico ("Bank") credit with a possible maturity of longer than six months but not to exceed one year.
According to the terms of the proposed agreement with the Bank, the ESF will provide credit facilities to the Bank in an amount of $600 million for a term of three months, with a possibility of three threemonth renewals, to expire no later than August 23, 1983. The Bank's obligations under the agreement will be unconditionally guaranteed by the Government of Mexico.
The ESF agreement is part of the multilateral effort involving other major countries, acting through the Bank for International Settlements ("BIS"), the ESF and the Federal Reserve System to provide Short-term facilities amounting to $1.85 billion to the Bank. Under the agreement between the Bank and the BIS, the ESF and the Federal Reserve System will share with the BIS in the proceeds of drawings by Mexico from the International Monetary Fund (IMF) and in certain other arrangements to assure repayment of this multilateral financing. The Mexican Government has undertaken to arrange a major program of economic adjustment in cooperation with the IMF, which will serve as the basis for IMF balance of payments financing for Mexico during the next three years. The multilateral arrangement, of which the ESF agreement is an integral part, is designed to provide immediate support for Mexico's external position while the IMF arrangement is being negotiated and other sources of financing are being arranged by Mexico.
Mexico at present faces extreme balance of payments problems of a magnitude and character which, if not addressed through the measures outlined above, could lead to substantial disruption of international money, financial, and exchange markets. The provision of financing by the ESF is a key component of a multilateral effort, centered on an economic adjustment program to be agreed between the IMF and Mexico, to strengthen Mexico's economic and financial position. Because of Mexico's extreme financial difficulties and the time that may be required before Mexico's economic adjustment measures begin to take effect, it may take more than six months before Mexico is able fully to repay credit advanced by the ESF. The mobilization of resources by other participants in this multilateral financing arrangement effort also recognizes this possibility.
I have therefore determined that these facts present unique and exigent circumstances and that the ESF must be prepared to extend credit to Mexico for a term greater than six months but not to exceed one year.

Sincerely,
RONALD REAGAN
Note: This is the text of identical letters addressed to Thomas P. O'Neill, Jr., Speaker of the House of Representatives, and George Bush, President of the Senate.
Ronald Reagan, Letter to the Speaker of the House and the President of the Senate on the Provision of Credit Facilities to the Bank of Mexico Online by Gerhard Peters and John T. Woolley, The American Presidency Project https://www.presidency.ucsb.edu/node/246387