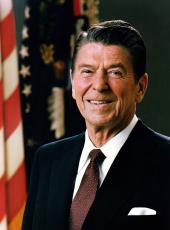 Letter to the Speaker of the House and the President of the Senate on the NATO Tactical Nuclear Posture
Dear Mr. Speaker: (Dear Mr. President:)
Pursuant to section 1105(b) of the FY 1984 Defense Authorization Act (P.L. 9894), this report contains my views on the DOD report on the tactical nuclear posture of the North Atlantic Treaty Organization (NATO). This is the first of four reports required by the FY 1984 Defense Authorization Act. It analyzes some of the most crucial problems facing U.S.-NATO defense policy, both because of the weapons involved and the essential role of nuclear weapons in NATO's deterrent posture.
I have reviewed Secretary Weinberger's very comprehensive report on the nuclear posture of NATO, and I strongly endorse the report's recommendations. I therefore urge the Congress to provide the necessary support so that the agreements reached within the Alliance for improving NATO's nonstrategic nuclear forces (NSNF) can be sustained.
The military threat to the Alliance has not lessened since the last report in 1975. There have been significant improvements by both the U.S. and the Europeans in conventional and nonstrategic nuclear forces over the last several years. Nonetheless, the quantitative military balance has, in fact, worsened. Our goal remains not to match the Warsaw Pact system-for-system or warhead-for-warhead, but to maintain forces adequate for credible deterrence and defense. NATO can accomplish this objective by continuing force improvement, including both nuclear and conventional modernizations, and by developing more effective use of our defense resources. Meanwhile, we will continue to work to achieve equitable and verifiable arms reductions which would assist NATO to obtain greater stability and security at lower levels of defense effort.
In October 1983, the NATO Nuclear Planning Group (NPG), as part of a theater-wide improvement of NATO's nuclear posture, decided to withdraw an additional 1,400 warheads over the next five to six years, in addition to the 1,000 warheads withdrawn in 1980. The basis for these decisions was a broadly supported Alliance study. This study was used as the cornerstone for the DOD report. Thus, the recommendations and intermediate steps outlined in the DOD report to improve NATO's nuclear posture are fully consistent with the views of our Allies.
I am fully aware of the views in the Congress that we should do more to improve our conventional forces. I intend to take a balanced approach to improving our capabilities in both areas. You have received a report from DOD which looks at conventional plans and requirements in detail. I shall be providing my views on how to pursue some of those recommendations soon. It is true that we need to continue to improve our conventional forces. However, it is essential that, in the process of examining conventional problems, we not lose sight of the very essential, significant contributions that credible, survivable, and stable NATO nuclear forces make to enhancing conventional defense or of the fact that such nuclear forces are presently our most credible deterrent to chemical attack.
I especially endorse those recommendations that improve the survivability of NATO's nuclear forces. Closely associated security improvements will also do much to improve the safety of our weapons in peacetime. I have placed significant emphasis on carrying out such improvements. I intend to encourage our Allies to take an equally serious view of the problem. We are working through several NATO organizations to obtain Allied assistance in and agreement to making needed improvements.
At Montebello, Defense Ministers agreed to make further stockpile reductions which leave the stockpile at its lowest level in the last twenty years. At the same time, the Allies agreed that NATO must pursue appropriate modernization programs so that this reduced stockpile will continue to constitute an adequate and credible deterrent. I will support both the stockpile level decision and the modernization programs which will ensure a credible deterrent. Present U.S. defense programs and budgets provide the means to implement these decisions. I ask for your support to ensure that they can be carried out in an orderly and timely fashion. The DOD report accurately documents the need, and outlines the remedial measures which we will be pursuing. The associated requirement to improve our target acquisition and communications capabilities is also well documented in the report.
As I mentioned earlier, NATO's nuclear posture correctly constitutes NATO's most effective deterrent against Soviet use of chemical weapons. We must do better than that, which is why the U.S. should develop a limited but modern chemical capability to serve as a direct deterrent against Soviet chemical use. U.S. defense budgets and programs include the necessary steps to sustain this deterrent.
NATO Allies are aware of the requirements for nuclear modernization and improvements in survivability and security. The U.S. will continue to provide the leadership and encouragement to stimulate the Allies to participate in their portions of future programs. As a result of the 1979 dual-track decision on LRINF, NATO is proceeding with deployments in the absence of a satisfactory negotiated arms reduction agreement which would make such deployments unnecessary. I stand fully committed to seek an equitable and verifiable arms reduction solution, and, as I have said many times, the U.S. is ready to recommend negotiations without preconditions at any time. Until such a negotiated solution is reached, however, the U.S. must provide the means to ensure that the nuclear posture of NATO does not deteriorate to such a degree that deterrence is threatened.
NATO's conventional, chemical, and nuclear forces are inextricably linked in achieving the Alliance's objective of deterrence and defense. If we are to maintain deterrence and live in peace and freedom, we must continue to improve each capability. Secretary Weinberger's report on NATO's nuclear posture has outlined the current situation and a practical way to proceed towards an enduring nuclear posture in NATO. I fully endorse his recommendations.

Sincerely,
RONALD REAGAN
Note: This is the text of identical letters addressed to Thomas P. O'Neill, Jr., Speaker of the House of Representatives, and George Bush, President of the Senate.
Ronald Reagan, Letter to the Speaker of the House and the President of the Senate on the NATO Tactical Nuclear Posture Online by Gerhard Peters and John T. Woolley, The American Presidency Project https://www.presidency.ucsb.edu/node/261277