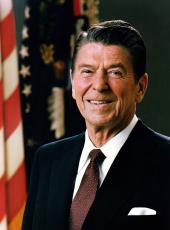 Letter to the Speaker of the House and the President of the Senate on the National Emergency With Respect to Libya
Dear Mr. Speaker: (Dear Mr. President:)
Pursuant to section 204(b) of the International Emergency Economic Powers Act, 50 U.S.C. section 1703, section 505 of the International Security and Development Cooperation Act of 1985, and section 301 of the National Emergencies Act, 50 U.S.C. section 1631, I hereby report that I have exercised my statutory authority to declare a national emergency and to:

• prohibit purchases and imports from and exports to Libya;

• ban U.S.-Libya maritime and aviation relations;

• ban trade in services relating to projects in Libya;

• ban credits or loans or the transfer of anything of value to Libya or its nationals, except their property held prior to the effective date of this order or transactions allowed by regulations providing for normal activities by Libyans lawfully in the United States; and

• prohibit transactions relating to travel by Americans to or in Libya, other than for commercial activities permitted until February 1, 1986, or those necessary for prompt departure from Libya or for journalistic travel.
These prohibitions are subject to regulation by the Secretary of the Treasury. Certain of the prohibitions in the order will apply as of 12:01 a.m. Eastern Standard Time, February 1, 1986. The remainder of the prohibitions of the order will become effective immediately.
I am enclosing a copy of the Executive order that I have issued making this declaration and exercising these authorities.
I have authorized these steps in response to the emergency situation created by international terrorism, in this instance the actions and policies of the Government of Libya. Its use and support of terrorism against the United States, other countries, and innocent persons violate international law and minimum standards of human behavior. These Libyan actions and policies constitute a threat to the security of the United States as well as the international community. Our Nation's security includes the security of its citizens and their right freely to go about their lives at home and abroad. Libyan use of and support for terrorism also constitute a threat to the vital foreign policy interests of the United States and of all other states dedicated to international peace and security.
Since Libya was officially designated under U.S. law in 1979 as a country that has repeatedly supported acts of international terrorism, the United States has taken a number of steps in response to hostile Libyan policies and actions. We have denied licenses for exports that may contribute to Libya's military potential or enhancing its ability to support acts of international terrorism. We have denied export of most national security controlled items; of goods or technical data which could contribute directly to the Ras Lanuf petrochemical complex; of aircraft, large off-road vehicles and parts with a high risk of diversion by Libya for military activities; and for oil and gas technology and equipment not available from third-country sources. On the import side, we have banned Libyan petroleum and, since November 1985, Libyan refined petroleum products. We have stopped Libyans from coming to the United States for aviation maintenance, flight operations or nuclear related studies. We have taken measures to limit the expansion of Libyan UN Mission facilities. We have also repeatedly called upon corporations to withdraw American citizens from Libya, for their safety, and we have restricted the use of U.S. passports for travel there. All these measures have not deterred Libya from its use and support of terrorism. Moreover, approximately 1500 Americans remain in Libya.
The Congress of the United States has repeatedly deplored the Qadhafi regime's use of and support for international terror. Recently it did so by enacting section 504 of the International Security and Development Act of 1985. Moreover, I have determined that Libya falls within the terms of another statute directed by the Congress against those countries that support terrorism against civil aviation, section 1114 of the Federal Aviation Act of 1958, as amended.
The United States reaffirms its call to Libya and all nations supporting terrorism to turn away from that policy. The United States also calls upon other nations to join with us in isolating the terrorists and their supporters. We must demonstrate by firm political and economic sanctions that the international community considers such actions intolerable, that states that engage in such actions cannot expect to be accepted members of the international community.
Failure to call Libya into account for its policy places the civilized world at the mercy of terrorism. This has necessitated the steps I have taken today. The terrible tragedies of Vienna and Rome demonstrate that no nation can be immune, that each nation must bear its fair share of the vital effort against the politics of terror. I call upon every nation to do so now.

Sincerely,
RONALD REAGAN
Note: Identical letters were sent to Thomas P. O'Neill, Jr., Speaker of the House of Representatives, and George Bush, President of the Senate.
Ronald Reagan, Letter to the Speaker of the House and the President of the Senate on the National Emergency With Respect to Libya Online by Gerhard Peters and John T. Woolley, The American Presidency Project https://www.presidency.ucsb.edu/node/254487