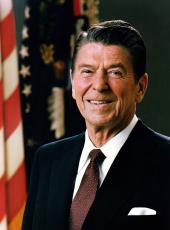 Letter to the Speaker of the House and the President of the Senate on Copper Production Restraints
Dear Mr. Speaker: (Dear Mr. President:)
In accordance with Section 247(c)(2) of the Trade and Tariff Act of 1984 (P.L. 98573), I am writing to inform you of my decision not to seek to negotiate voluntary production restraints on copper.
Section 247(b) conveyed the sense of Congress that I should negotiate "with the principal foreign copper-producing countries to conclude voluntary restraint agreements with those governments for the purpose of effecting a balanced reduction of total annual foreign copper production for a period of between three and five years..." In light of this provision, an interagency task force, chaired by the Office of the United States Trade Representative, was formed to take another look at the possibility of negotiating such restraints-which had been considered, and rejected, in the context of the determination made on September 6, 1984, on import relief in accordance with Section 202(b)(1) of the Trade Act of 1974.
The task force reviewed all questions relevant to the issue of voluntary production restraints, including:
1. The consistency of voluntary production restraints with the basic policies of this Administration.
2. The situation of the U.S. copper industry.
3. The extent of subsidization or unfair trade practices in the world copper economy.
4. The probable economic effects of production restraints.
5. The feasibility of negotiating and implementing such restraints.
The findings of the task force are outlined in the attached report.
In light of this review, I have determined that it would be inappropriate for this Government to seek to negotiate voluntary production restraint agreements with the governments of the principal foreign copper producing countries.
An attempt to negotiate such restraints would be inconsistent with the overall, market-oriented trade and economic policy objectives of this Administration. It would set an undesirable precedent in light of both our efforts to increase the responsiveness of the domestic and international economy to market forces and our continued opposition to cartels or other arrangements aimed at controlling world markets. Moreover, any effort by this Government, in the context of production restraint negotiations, to give foreign producers assurances regarding the intentions of U.S. copper producers would raise serious antitrust concerns.
Efforts to raise world copper prices through the restraint of foreign production would also be inefficient and expensive for the U.S. economy; they would incur losses to U.S. consumers substantially in excess of any gains accruing to U.S. producers.
Finally, I do not believe it would be feasible either to conclude or to implement production restraint agreements. The major copper-producing countries have made it clear that they are opposed to the negotiation of such restraints—largely because they do not feel that such actions would be effective in improving the longer term situation in the world copper market. Moreover, past experience shows that production restraint agreements are extremely difficult to implement effectively and that any benefits from restraints tend to be eroded or reversed in the years following their termination.
While I do not believe that the negotiation of restraints is an appropriate course of action, I have asked the United States Trade Representative to continue to follow closely developments in the world copper market and to explore other possibilities for improving the situation of the U.S. copper industry. I also continue to be deeply concerned about the problems facing many workers in the U.S. copper industry. In response to my directives of September 6, 1984, the Department of Labor has developed, and begun to implement, a plan for a special effort to assist workers displaced from the copper industry.
This plan consists of three elements. First, of the funds reserved by the Secretary under Title III of the Job Training Partnership Act (JTPA), $5.0 million has been earmarked specifically for retraining programs to assist copper workers in heavily impacted States and localities. To assure that a maximum effort is made in the States to assist copper workers, the States have been asked to contribute an amount equivalent to twice the Federal allocation to support these projects. In total this will amount to approximately $15 million in new training and employment services for copper workers. In addition, the 12 States targeted by this plan already have been allocated almost $38 million of title III grant resources which they have matched with some $25 million in State support. These combined resources totaling almost $63 million are also available for States to use in assisting dislocated copper workers.
Second, a team of senior Department of Labor staff has been made available to work with those State and local governments that request assistance to help establish programs of retraining, relocation, and related assistance for displaced copper workers.
Finally, Secretary Brock, working closely with representatives of industry and labor and officials from all levels of government, is monitoring these efforts and seeking ways to improve upon them. A more detailed report on the Department of Labor's efforts to assist dislocated copper workers is attached.

Sincerely,
RONALD REAGAN
Note: Identical letters were sent to Thomas P. O'Neill, Jr., Speaker of the House of Representatives, and George Bush, President of the Senate.
Ronald Reagan, Letter to the Speaker of the House and the President of the Senate on Copper Production Restraints Online by Gerhard Peters and John T. Woolley, The American Presidency Project https://www.presidency.ucsb.edu/node/259534