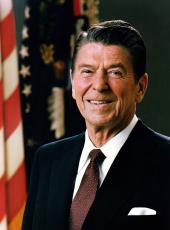 Letter to the Speaker of the House and the President Pro Tempore of the Senate on the Termination of United States Participation in the Multinational Force in Lebanon
Dear Mr. Speaker: (Dear Mr. President:)
Since the date of my last report to you on the participation of United States Armed Forces in the Multinational Force (MNF) in Lebanon, I have decided that the U.S. will terminate its participation in the MNF. In accordance with my desire that Congress be kept informed on these matters, and consistent with Section 4 of the Multinational Force in Lebanon Resolution, I am hereby providing a final report on our participation in the MNF.
U.S. foreign policy interests in Lebanon have not changed, and remain as stated in my last report to Congress on February 13. The U.S. is committed to the goals of the restoration of a sovereign, independent and united Lebanon, the withdrawal of all foreign forces, and the security of Israel's northern border. However, the continuation of our participation in the MNF is no longer a necessary or appropriate means of achieving these goals. We have discussed our decision with the Government of Lebanon and the other MNF participants, and the other MNF countries have made similar decisions.
The U.S. military personnel who made up the U.S. MNF contingent were earlier redeployed to U.S. ships offshore. Likewise, the MNF personnel of other national contingents have either already departed Lebanon or are in the process of departing.
As you know, prior to their earlier redeployment to ships offshore, U.S. MNF personnel had come under intermittent hostile fire as a result of continued fighting in the Beirut area, including the round of serious fighting that occurred in late February. On February 25-26, and again on February 29, U.S. warships returned fire against artillery and rocket positions in Syrian-controlled territory that had fired on U.S. military and diplomatic locations and on U.S. reconnaissance flights.
During the overall course of our participation in the MNF, U.S. forces suffered a total of 264 killed (of which 4 non-MNF personnel were killed in the April 1983 bombing of the U.S. Embassy), and 137 wounded in action. (Three of these were wounded in the period since my last report to Congress on February 13.) The estimated cost of U.S. participation in the MNF for FY 1984 was a total of $14.6 million for the U.S. Marine Corps deployment, $44.9 million for U.S. Navy support, and $243,000 for U.S. Army support.
These were heavy burdens and grievous losses for our country. We owe a great debt of gratitude to those military and diplomatic personnel of the United States and other MNF countries who served their countries so proudly to give the people of Lebanon a chance to achieve peace and national reconciliation.
The United States has not abandoned Lebanon. The U.S. Embassy in Beirut remains in full and active operation and a Marine detachment of approximately 100 personnel drawn from the Marine unit afloat remains to provide additional external security for our diplomatic mission. In addition, a limited number of U.S. military personnel (equipped with personal weapons for self-defense) will remain to provide military training and security assistance liaison to the Lebanese Armed Forces. These personnel will not be part of any multinational force; they will be deployed under the authority of the Foreign Assistance and Arms Export Control Acts, and my Constitutional authority with respect to the conduct of foreign relations and as Commander-in-Chief of U.S. Forces. I do not intend or expect, under present circumstances, that these personnel will become involved in hostilities; nonetheless, U.S. naval and air forces in the Mediterranean area, including the U.S. Marines redeployed from Lebanon, are available to protect our military and diplomatic personnel should that need ever arise.
I appreciate the support for this vital effort that Congress provided last October in adopting the Multinational Force in Lebanon Resolution. I hope that Congress will support the programs of economic and security assistance that are essential for the future of Lebanon and the Middle East. I will keep Congress informed on events in Lebanon, and on the U.S. role in encouraging peace and stability in the area.

Sincerely,
RONALD REAGAN
Note: This is the text of identical letters addressed to Thomas P. O'Neill, Jr., Speaker of the House of Representatives, and Strom Thurmond, President pro tempore of the Senate.
Ronald Reagan, Letter to the Speaker of the House and the President Pro Tempore of the Senate on the Termination of United States Participation in the Multinational Force in Lebanon Online by Gerhard Peters and John T. Woolley, The American Presidency Project https://www.presidency.ucsb.edu/node/261124