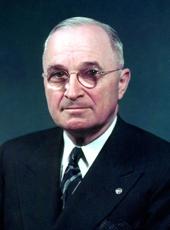 Letter to the Secretary of Commerce Directing Him To Head a Mission To Survey European Industrial Progress.
[Released September 24, 1952. Dated September 20, 1952]
My dear Mr. Secretary:
You recently informed me of your survey which will furnish the basis and groundwork for business planning in this country and continued high standards of living after production for defense levels off. It would seem that an examination of conditions and prospects in Europe might be a desirable complement to that survey.

The success of our effort toward world peace depends substantially not only upon the industrial power of the United States but upon the continued economic stability of our allies. We need strong and prosperous economies both here and abroad to protect and maintain the free nations.
We and our European allies are now well along in our joint defense efforts. In the light of your present survey and problems which will develop in the coming months, I feel that it might be helpful if you as the Secretary of Commerce and the member of the Administration most concerned with business and industry and commerce should head up a group who will review on the ground in Europe industrial problems and progress, with particular emphasis upon and attention to our business relations abroad and the effect of our policies upon growing business in other countries.
Your responsibilities in connection with the promotion of foreign trade as well as the administration of export controls given to you by the Congress and by me, your familiarity with the problems involved in the current imbalance of trade, and your general interest in commerce should make such a survey interesting and helpful to you in your official capacity and would, I believe, be helpful to me and others as a basis for future guidance. In particular it will enable you to make helpful suggestions in connection with the operation of Point IV as it involves the question of private investment abroad and in that connection the responsibility imposed upon you by an Act of Congress for investigating and reporting to the Mutual Security Agency upon impediments to private investment abroad.
It would, I believe, be opportune for you to have associated with you on this mission Henry H. Fowler, head of the Office of Defense Mobilization (personally if he can spare the time and by representative if he cannot), and a top-level official of the Treasury Department whose problems and interests are parallel to yours. It might also be well if you could have associated with you in this enterprise one or two representatives of private business who are familiar with and could be helpful in connection with the problems of private investment abroad and the methods by which we could cooperate with businessmen in other countries to promote our mutual interests in connection with the desired economic progress.
I would hope that you could begin your planning in this undertaking in the near future and get the mission underway so that your conclusions and recommendations may be available before the end of this calendar year.
I know that you will receive the complete cooperation of the Department of State, the Department of Defense, and the Mutual Security Agency in whatever arrangements you would like to make.

Sincerely yours,
HARRY S. TRUMAN
[The Honorable Charles Sawyer, Secretary of Commerce, Washington, D.C.]
Harry S. Truman, Letter to the Secretary of Commerce Directing Him To Head a Mission To Survey European Industrial Progress. Online by Gerhard Peters and John T. Woolley, The American Presidency Project https://www.presidency.ucsb.edu/node/230514