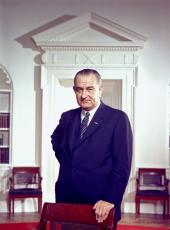 Letter to the President of the Senate and to the Speaker of the House Transmitting Bills To Improve Highway Beauty.
Dear Mr. President: (Dear Mr. Speaker:)
I am transmitting four draft bills designed to help make our Nation's roads highways to the enjoyment of nature and beauty.
Today's new conservation must shift from the classic role of protecting threatened nature. It must restore beauty where it has already been destroyed. It must deal with the dangers which urbanization and growth and technology offer to the world we live in. It must make an effort to put beauty within reach of those who live in our cities, and make it part of the daily life of every American. For its concern is with restoring and enhancing the entire relationship between man and the natural world which is the source of so many treasured human values.
To do this will require imagination and new approaches to old problems. It means we must transform those activities which menace nature into instruments for the enjoyment of beauty. No modern work offers greater promise and opportunity in this regard than the highways of our nation.
The automobile is a central feature of American life. It takes people to and from work. It is used for travel to friends and relatives. It carries us to places of recreation and beauty. It helps to expand the horizons of our daily life; and the "Sunday drive" has become an American institution.
Therefore by acting to bring beauty to our roads, by making nature and recreation easily accessible, our highway system can become immensely more valuable in serving the needs of the American people.
The Federal-aid highway system is one of the great achievements of this nation. It is knitting together the communities of this nation with an ever-increasing flow of commerce, goods and people. In a nation of continental size, transportation is essential to the growth and prosperity of the national economy.
But that economy, and the roads that serve it, are not ends in themselves. They are meant to serve the real needs of the people of this country. And those needs include the opportunity to touch nature and see beauty, as well as rising income and swifter travel.
Therefore we must make sure that the massive resources we now devote to roads also serve to improve and broaden the quality of American life.
Moreover beauty has an economic aspect. Roads which are highways to pleasure will encourage travel. Increased travel in many areas will mean new opportunities for tourism and for investment.
These bills reflect what I believe to be the human priorities of American society.
First, I recommend legislation to strengthen control of outdoor advertising.
In 1958 Congress authorized a bonus payment to states which agreed to regulate outdoor advertising along the Interstate Highway System. Only 20 states have entered into agreements under this voluntary program and only eight states have actually become eligible for such payments. The conclusion is clear. The voluntary program has failed to control outdoor advertising.
Therefore I recommend that States--as a condition of receiving Federal-aid highway grants after January 1, 1968--institute control over outdoor advertising along those sections of the Interstate and primary systems not zoned or used predominantly for commercial or industrial purposes. In general such controls would require that no advertising signs be erected in areas within 1,000 feet of the pavement and visible to the passing motorist. Existing signs would have to be removed by July 1, 1970.
Advertising plays an important and valuable role in the life of America. Its contribution to our standard of living is great. But it is neither in the interests of the advertising industry, or the Nation, to permit a further decrease of our dwindling natural beauty.
Second, I propose controls over junkyards. I recommend that as a condition of receiving Federal-aid, States must exercise control along the entire Interstate and primary systems. No new junkyards could be established within 1,000 feet of the pavement and visible to the motorist. Existing junkyards would have to be effectively screened or removed by July 1, 1970.
We must recognize, both in the case of junkyards and outdoor advertising, that some states may lack adequate police powers for control. Where this is the case the Federal government would be authorized to pay its share of the cost of purchase or condemnation.
Third, I propose to broaden existing authority to use Federal-aid funds--on a matching basis--for the cost of landscape and roadside development. Under this authority rest and recreation areas can be acquired and developed for use by the traveling public.
For some years states have been permitted, by a related statutory provision, to use three percent of their Federal-aid funds without matching to acquire land alongside highways and make that land a source of scenic beauty. In all these years this authority was never used. Not until 1965, in three instances, was application made. Here is another case where a voluntary program was not sufficient to carry out the intent of Congress. Therefore, I propose that States be required to use this three percent for natural beauty.
Fourth, I propose that each state use onethird of the Federal aid it now receives for secondary roads to (a) construct scenic roads, (b) construct roads leading to scenic and recreational areas, and (c) provide for landscape and roadside developments along Federal-aid highways.
This proposal will add immensely to the value of our highway system. It will provide access to lakes and forests, picnic and historical areas, beaches and mountain trails. It will provide places to stop and enjoy the view, or to picnic. In so doing it will add an entirely new dimension of pleasure and recreation and spiritual satisfaction to the existing goals of our road program. Thus the roads themselves will become more important to our society, and more useful to the people of our country.
Earlier this year I said: "For centuries Americans have drawn strength and inspiration from the beauty of our country. It would be a neglectful generation indeed .... which failed to preserve and extend such a heritage for its descendants."
These bills are evidence of our determination not to be such a neglectful generation. Their passage will ensure this Congress the gratitude of future generations of Americans who will be allowed to enjoy the same gifts of nature which are our heritage.
Next fiscal year we will spend an estimated $3.9 billion on Federal-aid highways. This is an investment in the future of America. Surely that future will include the wonders of the natural world, as well as the growth of the world which man has made. We must invest in both these futures if we are to conquer the challenges of the modern world while protecting the values of our past.

Sincerely,
LYNDON B. JOHNSON
Note: This is the text of identical letters addressed to the Honorable Hubert H. Humphrey, President of the Senate, and to the Honorable John W. McCormack, Speaker of the House of Representatives.
The text of the draft bills is printed in House Document 191 (89th Cong., 1st sess.).
A bill providing for scenic development and roadside beautification of the Federal-aid highway systems was approved by the President on October 22 (see Item 576).
Lyndon B. Johnson, Letter to the President of the Senate and to the Speaker of the House Transmitting Bills To Improve Highway Beauty. Online by Gerhard Peters and John T. Woolley, The American Presidency Project https://www.presidency.ucsb.edu/node/241402