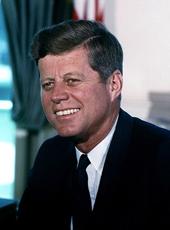 Letter to the President of the Senate and to the Speaker of the House on Transfer of Surplus federal Lands to State and Local Bodies
Dear Mr.___________:
Transmitted herewith is a draft bill to amend existing statutes which prescribe terms and conditions under which Federally owned real property, surplus to the needs of the federal Government, is made available to States and local bodies for various public purposes.
In addition to the public domain, the federal Government owns real property which originally cost $56 billion. Because of program changes or other developments, some of this property may no longer be required for its original purpose and becomes available for other uses. At the present time, real property with an acquisition cost of over one billion dollars is in this category. Sound disposal policies are essential to ensure that such property is utilized in the Nation's best interests--by transfer for other uses within the Government, by conveyance for public uses to the States or local communities, or by sale to private parties.
The statutes authorizing disposal of property no longer needed by the federal Government were enacted at different times and under varying circumstances. As a result, there is no common policy governing the terms and conditions for conveying surplus property for non-Federal uses and the standards for administration and compliance are not uniform. Of particular importance are the provisions of existing law authorizing the disposal of surplus real property to qualified applicants for various non-federal public uses, such as health, education, park and recreation, airports, and wildlife conservation. The interest of local governments in surplus federal property for these purposes has increased markedly since enactment of the federal Property and Administrative Services Act in 1949. Closely related to these public uses is the growing interest on the part of local communities in acquiring surplus real property to foster and promote industrial and commercial growth.
Last August I directed an ad hoc interagency committee to reappraise our disposal policies and develop recommendations for action, including any proposals for needed legislation. The proposed bill, resulting from that committee's work, would not basically alter the scope of the present real property disposal program. Instead, its major purposes are to: (1) provide common standards for determining the terms and conditions on which federal surplus real property may be conveyed for authorized public purposes, (2) provide for the negotiated sale of surplus real property to public bodies at 75 percent of its fair market value rather than at 100 percent of fair market value as presently required, and (3) define and make uniform the administrative responsibilities of the various federal agencies involved. In accomplishing these purposes, the bill would carry out the recommendation in my message to Congress on conservation of March 1 that existing law be amended to permit States and local governments to acquire surplus federal lands for park, recreation, or wildlife purposes on more liberal terms.
I believe this bill represents a major improvement in present policies and practices and that it will materially assist the federal agencies concerned in their efforts to put surplus real property to its highest and best use. Accordingly, I hope that Congress will give it prompt and favorable attention.
Also enclosed is a letter to me from the Administrator of General Services describing the provisions of the bill in more detail.

Sincerely,
JOHN F. KENNEDY
Note: This is the text of identical letters addressed to the Honorable Lyndon B. Johnson, President of the Senate, and to the Honorable John W. McCormack, Speaker of the House of Representatives.
John F. Kennedy, Letter to the President of the Senate and to the Speaker of the House on Transfer of Surplus federal Lands to State and Local Bodies Online by Gerhard Peters and John T. Woolley, The American Presidency Project https://www.presidency.ucsb.edu/node/235611