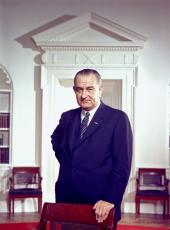 Letter to the President of the Senate and to the Speaker of the House on the Proposed Public Works and Economic Development Act
Dear Mr. President: (Dear Mr. Speaker: )
I am today sending for appropriate reference a proposed Public Works and Economic Development Act to carry out the recommendations in my message to the Congress of March 25, 1965.
As I said in that message, a growing Nation cannot afford to waste its human and natural resources--too often neglected and unused in distressed areas. Nor can we afford to shut out large numbers of our fellow citizens from the fulfillment of hope which is shared by the rest of us. The millions of people living in those areas and regions of our Nation which have not shared fully in our general prosperity are in urgent need of help.
This bill is based upon experience under the Accelerated Public Works program and the Area Redevelopment program. It rests on the assumption that there is little hope of establishing new industry in an area which does not have the public works and development facilities necessary to support industrial growth. It is, therefore, basically and essentially a public works bill. More than half of the $510 million of annual appropriations authorized by this bill would be used for grants for public works and development facilities.
The bill also contains provisions encouraging the formation of groups of counties into regions. Special inducements would be made available for the creation of multicounty economic development districts. Grants would be authorized for multi-State regional action planning commissions to enable them to prepare long-range regional economic development programs, including necessary public works and other development facilities.
To provide maximum utilization of the basic public works and development facilities constructed under this Act, and to insure the actual creation of permanent jobs where the opportunities for new long-term employment can immediately be made available, I am recommending that an improved form of the industrial and commercial loan program of the present Area Redevelopment Administration be coupled with a public works grant program. Both forms of assistance are necessary to achieve the effective long-range economic development of these distressed areas--grants for adequate public works and environmental facilities, and loans so that new industrial and commercial enterprises can be formed or expanded to take advantage of these public facilities.
By combining the best features of the Accelerated Public Works program and of the Area Redevelopment program, we can begin to insure to all Americans the opportunity to maintain their dignity and self-respect as responsible, productive members of our society.
I recommend that the Congress take early action on this legislation so that this program will be in effect when the present Area Redevelopment Act expires on June 30, 1965.

Sincerely,
LYNDON B. JOHNSON
Note: This is the text of identical letters addressed to the Honorable Hubert H. Humphrey, President of the Senate, and to the Honorable John W. McCormack, Speaker of the House of Representatives.
The Public Works and Economic Development Act of 1965 was approved by the President on August 26, 1965 (see Item 452).
Lyndon B. Johnson, Letter to the President of the Senate and to the Speaker of the House on the Proposed Public Works and Economic Development Act Online by Gerhard Peters and John T. Woolley, The American Presidency Project https://www.presidency.ucsb.edu/node/242049