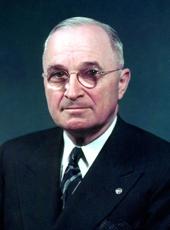 Letter to the President of the Senate and to the Speaker of the House of Representatives Concerning Federal Assistance for Child Care Centers.
Dear Mr.___________:
In my communication of September 5, 1945, I transmitted for the consideration of the Congress proposed rescissions of portions of several war-related appropriations, including appropriations available to the Federal Works Agency under the heading "Office of the Administrator: War public works (community facilities)" to the extent of $19,115,000.
This item included funds that had been appropriated by the Congress for war-time child care centers on the understanding with the Federal Works Agency that when the need for women in war production and essential supporting services ended, Federal funds would be withdrawn. Therefore, my communication of September fifth was based upon that understanding.
On August twenty-seventh I requested the Federal Works Administrator to present to the Congress the problem which had arisen where local communities were not able to continue needed child care centers for children whose mothers are the wives or widows of servicemen. The Federal Works Administrator now advises me that the appropriate Committees of the Congress do not believe it feasible to enact special legislation to take care of this problem for this particular group of mothers.
Although some communities have already arranged with local funds to operate centers for children of working mothers, the majority of them have not yet completed such arrangements. In some communities, State or local laws or other limitations make it impossible for them to assume this responsibility by October thirty-first, the presently scheduled date for the termination of Federal assistance.
The reconversion of the war-time child care program to peacetime operations under which the local communities would assume the financial responsibility requires Federal assistance for a few more months. This extension of time would give working mothers more time to make other arrangements for the care of their children and would give local communities additional time to provide the necessary State or local funds.
Included in the amount which I have heretofore recommended for rescission is an item of $7,000,000 for service projects. If this amount is not repealed, the Federal Works Agency would be able to make Federal funds available for the operation of needed child care centers until March 1, 1946. I therefore now recommend that the amount of the proposed rescission for "War public works (community facilities)" be reduced to $12,115,000.

Yours very truly,
HARRY S. TRUMAN
Note: This is the text of identical letters addressed to the Honorable Kenneth McKellar, President pro tempore of the Senate, and to the Honorable Sam Rayburn, Speaker of the House of Representatives.
Harry S. Truman, Letter to the President of the Senate and to the Speaker of the House of Representatives Concerning Federal Assistance for Child Care Centers. Online by Gerhard Peters and John T. Woolley, The American Presidency Project https://www.presidency.ucsb.edu/node/230907