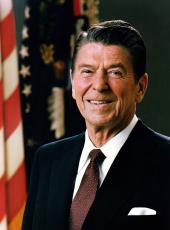 Letter to the President of the National Education Association on Merit Pay for Teachers
Dear Mr. McGuire:
The report of the National Commission on Excellence in Education makes several significant recommendations, but the first two recommendations offer key elements in an effort to correct the alarmingly deficient performance of our schools. These two recommendations state, in part, that:
1. Persons preparing to teach should be required to meet high educational standards, to demonstrate an aptitude for teaching, and to demonstrate competence in an academic discipline. Colleges and universities offering teacher preparation programs should be judged by how well their graduates meet these criteria.
2. Salaries for the teaching profession should be increased and should be professionally competitive, market-sensitive, and performance-based. Salary, promotion, tenure, and retention decisions should be tied to an effective evaluation system that includes peer review so that superior teachers can be rewarded, average ones encouraged, and poor ones either improved or terminated.
I was surprised to read in the press that the NEA considered my remarks calling for teachers to receive pay based on merit, rather than seniority and number of college credits earned, as a "disgraceful assault on the teaching profession." My intent was to support the recommendations of the National Commission on Excellence in Education and to raise my voice on behalf of the thousands of outstanding teachers whose compensation is held down by pay scales that fail to recognize and reward many distinguished teachers by paying them commensurate with their worth.
The Commission's report makes clear that this panel of distinguished educators, scientists, and scholars uses the term Master Teacher to identify those individuals particularly deserving of recognition, rewards, and additional responsibilities. As you know, Secretary Bell has been calling for adoption of the Master Teacher concept for over two years. This Administration is concerned about our teachers and we want to be helpful in achieving some badly needed reforms.
I incorporated the Commission's recommendations in my commencement address at Seton Hall University. I favor the use of an effective evaluation system to guide decisions made in the retention, promotion, and tenure of teachers. Additionally, as the Commission points out, teachers should have a voice in these decisions, through a peer review system that includes teacher participation.
I cannot understand how the NEA concluded that these remarks, intended constructively to support the Commission's recommendations on how to improve the teaching profession, constitute an assault on teachers. In my view, the teaching profession has suffered for years from lack of recognition and reward of our most talented teachers. I would think that the NEA would join in this endeavor rather than strike out with criticism of these important recommendations.
I was heartened to learn that Tennessee Governor Lamar Alexander had proposed to his State legislature a Master Teacher salary scale that would recognize and reward outstanding teachers. But I was disappointed to learn that this proposal was not enacted largely because of the vigorous opposition by NEA and its State affiliate, the Tennessee Education Association. Secretary Bell has been working with governors, State legislators, school boards, school administrators, and teachers on the Master Teacher concept, and we believe that the Tennessee plan would have been a great first step.
My Administration is deeply concerned about the condition of the teaching profession. We are neither attracting nor keeping sufficient numbers of bright and talented citizens in the teaching profession. Until NEA supports badly needed reforms in salary, promotion, and tenure policies, the improvements we so desperately need will only be delayed.
I am responding to your public comments concerning the merit pay proposals with the hope that your organization might be persuaded to change its position on merit pay scales for teachers. I fear that NEA's long-standing opposition to new ideas like the Tennessee Master Teacher proposal has been a major obstacle to paying our outstanding teachers what they deserve.
I sincerely hope you will reconsider your position. This is the key to improved learning opportunities for the nation's schoolchildren. This was the intent of my remarks. We have an unprecedented opportunity to make great strides in education now that this panel of distinguished citizens has made such an outstanding report to the American people. Let's all join together and improve teaching and learning in America. I agree with the Commission: Our nation is, indeed, at risk. Because of the nation's 45 million elementary and secondary schoolchildren, we should all pitch in and take the first crucial step to improve the teaching profession. I hope the NEA, of all the organizations in this nation, would be a leader in advancing this long overdue reform.

Sincerely,
RONALD REAGAN

[Mr. Willard H. McGuire, President, National Education Association, 1201 16th Street NW, Washington, D.C. 20036]
Ronald Reagan, Letter to the President of the National Education Association on Merit Pay for Teachers Online by Gerhard Peters and John T. Woolley, The American Presidency Project https://www.presidency.ucsb.edu/node/262453