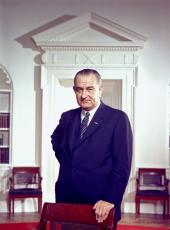 Letter to the President, Board of Commissioners, on Crime in the District of Columbia.
[ Released October 25, 1964. Dated October 20, 1964 ]
Dear Mr. Tobriner:
Thank you for your letter discussing both the problem of crime in the District of Columbia and the various programs in operation to combat crime in the District. As your letter makes clear, crime within our cities is basically a responsibility for local authorities, but one in which the Federal Government must be helpful and cooperative. I am glad that in the District there has been such cooperation and that officials and citizens are working together to solve the District's crime problems.
I am particularly pleased that the District's major effort to reduce juvenile delinquency is now underway. Early this year in recommending the District budget to the Congress, I stated that the District--and the Nation-faced no more important social challenge than the increase in juvenile crime. I pledged my support then to the most comprehensive attack on this evil that could be devised.
You may be assured that this Administration will continue to stimulate, aid and encourage the District efforts in every way. This Nation deserves and must have a capital city which is in the very front rank in respect for law by its citizens, and in safety for its residents and visitors.

Sincerely,
LYNDON B. JOHNSON
[Honorable Walter N. Tobriner, Commissioner, District of Columbia Government, Washington, D.C.]
Note: In his letter, dated October 19 and released with the President's reply, Mr. Tobriner pointed out that juvenile offenders were largely responsible for the increased crime rate in the District of Columbia, and that a major effort was under way to reduce juvenile delinquency. He stated that with financial and other assistance from the President's Committee on Juvenile Delinquency and Youth Crime, officials and citizens were cooperating in a comprehensive and coordinated attack, and that "adult as well as juvenile crime will decrease as we improve employment opportunities, remedy the inadequacies in education and training, provide more decent homes and better home environments, improve recreation and health facilities." Programs being developed under the Economic Opportunity Act of 1964, he said, would also provide vital assistance in reducing the District's crime rate.
The Board of Commissioners, he added, had sought and secured appropriations to enlarge the effective force of the Police Department and to institute a police cadet program to increase the supply of qualified police officers. He said that the Commissioners and the Police Department "are diligently seeking to increase the respect for and appreciation of the Department by citizens and citizen groups," and that a Community Relations Unit had recently been created to work with local citizens on programs to ameliorate conditions which lead to crime.
Mr. Tobriner expressed appreciation for the support of the administration, particularly the summer job programs for disadvantaged youth and efforts to reduce school dropouts. He concluded by stating that with the "continuation of your support and that of so many members of your administration, we are confident that Washington can and will become a pacesetter for the Nation."
Lyndon B. Johnson, Letter to the President, Board of Commissioners, on Crime in the District of Columbia. Online by Gerhard Peters and John T. Woolley, The American Presidency Project https://www.presidency.ucsb.edu/node/242012