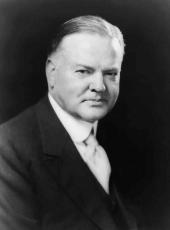 Letter to the National Commander of the American Legion on Naval Parity With Great Britain.
[Released July 31, 1929. Dated July 30, 1929]
My dear Mr. McNutt:
I am glad to have your assurance that the American Legion supports the policy of parity for our navy with that of Great Britain. This principle is enunciated by our naval authorities as a complete defense of the United States in any contingency and defense is all that we seek.
The first step of the renewed consideration of reduction of the excessive world naval armament has been acceptance of that principle as a preliminary to discussion between Great Britain and the United States. This is a forward step of the first importance.
It seems to me that every person of common sense will agree that it is far better to at least try to establish such a relation by agreement before we resign ourselves to continued attempts to establish it by rival construction programs on both sides of the Atlantic. We need not disguise the fact that (aside from the capital ship limitations under the Washington Treaty) competitive building has been in progress on both sides since the Great War, and we have arrived only at disparity, not parity. It creates burdensome expenditure, a constant stream of suspicion, ill will and misunderstandings. Moreover, by constant ,expansion of naval strength we cannot fail to stimulate fear and ill-will throughout the rest of the world toward both of us, and thus defeat the very purposes which you have so well expressed as being the object of the Legion, when you say, "The Legion stands uniformly for movements which will make permanent peace more certain and assure better understanding between nations."
I fear you have been misinformed as to the actual problems that lie before us if we are to succeed in such a negotiation, for they are far more intricate and far more difficult than can be solved by the simple formula which you suggest. But I feel confident that the American Legion will be sympathetic with principles of parity by negotiation and of reduction and limitation of armament instead of competitive building, with its continuous expansion and all its train of world dangers.
I am further confident that the American Legion will join with me in endeavoring to establish and cooperate with others in an atmosphere of good-will and sincerity within which to find such a solution.
We and other nations have entered into a solemn covenant that we shall not resort to war as an instrument of national policy, that we shall seek to settle disputes by pacific means and if we are honest in this undertaking it follows that every effort should be made to establish confidence in our intentions and to hold our preparedness programs solely within the area of efficient defense. I am confident that these policies are consonant with the many declarations of the American Legion and the sentiment of the American people.
Yours faithfully,
HERBERT HOOVER
[Mr. Paul V. McNutt, National Commander, The American Legion, Indianapolis, Indiana]
Herbert Hoover, Letter to the National Commander of the American Legion on Naval Parity With Great Britain. Online by Gerhard Peters and John T. Woolley, The American Presidency Project https://www.presidency.ucsb.edu/node/211675