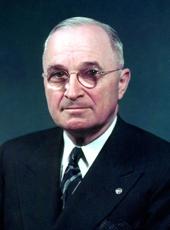 Letter to the Director, Office of War Mobilization and Reconversion, Concerning Key Personnel of the War Agencies.
Dear Fred:
As V-E Day approaches, many of our wartime agencies will face a most critical personnel problem. Under the impact of war, these agencies have recruited many splendid executives from private life. In every grade and rank today the government is served by splendid personnel. These men and women have rendered faithful, patriotic and effective service for the country in meeting the critical problems of war on the home front.
These agencies cannot afford to relax their efforts or to disband their trained staffs after V-E Day. We still have a tremendous job ahead in bringing the entire war to a victorious conclusion. Beyond that, we must reconvert our domestic economy to the production of peacetime goods and services. The tasks which lie ahead are no less important, no less urgent, no less vital to the future stability of our free institutions than the tasks which are behind us.
In the months ahead, our government simply cannot afford to lose the services of its key personnel. Through you, I am calling upon these men and women to stick to their posts until the battle is won and the ship of state is safe in the harbor again. I want you to write to the head of each one of our important home front agencies and ask him to canvass his key personnel, informing him of my request that these key workers stay on the job. I want the head of each agency, insofar as possible, to secure a pledge from these essential employees that they will not go home on V-E Day, but will stay and help to finish the task. When the heads of the agencies have done this, I should like for them to report to you as to their success.
These patriotic citizens who have devoted themselves unstintingly to the nation's welfare in time of war have earned the lasting gratitude of the American people. They have helped to pay that debt which every citizen in the Democracy owes to his country and its institutions. But that debt is unpaid at least until we have finished the war and solved those urgent problems which war leaves in its aftermath. I reiterate with all the emphasis at my command that the nation cannot yet allow any man to leave his post of duty.

Sincerely yours,
HARRY S. TRUMAN
[The Honorable Fred M. Vinson, Director, Office of War Mobilization and Reconversion]
Harry S Truman, Letter to the Director, Office of War Mobilization and Reconversion, Concerning Key Personnel of the War Agencies. Online by Gerhard Peters and John T. Woolley, The American Presidency Project https://www.presidency.ucsb.edu/node/230612