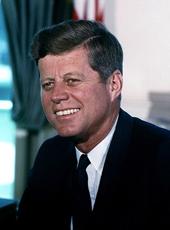 Letter to the Chairmen of the Senate and House Appropriations Committees on Civil Defense.
[Released August 3, 1962. Dated August 2, 1962]
Dear_____________:
Legislation and appropriations are pending before the Congress on Civil Defense programs which would greatly increase the capacity of this country to survive and recover after a nuclear blow. Your Committee has jurisdiction over these appropriations. I wish again to state my view that, in these times, the federal Government has an inescapable responsibility to take practical and sensible measures to minimize loss of life in the event of nuclear attack, to continue the essential functions of the Government, and to provide a base for our survival and recovery as a nation. These matters are an integral part of a balanced defense program for the security of our nation.
You know from your own experience how the sense of urgency with which we view these matters fluctuates. When a crisis is near, we pay attention to them; when it seems distant, they recede from the forefront of our concern. It is important that we overcome our natural tendency to put off making preparations for a contingency which is both awful and unlikely.
Last year I sent to the Congress a program embodying my views of what is a sensible and practical program, which focused on protecting as many of our people as possible against lethal fallout radiation. The Secretary of Defense and my other senior advisors on this subject had intensively reviewed what is known and what is not known about the possible effects of nuclear warfare. The conclusion was clear that, for the foreseeable future, under a wide range of attack assumptions, large numbers of lives could be saved by adequate fallout shelter space. Postponement of practical measures to shield our people from fallout radiation can not be justified by the inevitable imponderables and the continuing need for a greater research effort. The Department of Defense is continuously examining present and future weapons systems and studying the effects of a wide range of hypothetical nuclear attacks. Nothing in the studies that have been made since last year's decisions justifies change of the program which we have proposed.
The Defense Department survey, which was the first step in our new program, reveals that we already have enough shelter space for 60 million people which needs only to be marked and provisioned. Funds made available for fiscal year 1962 have financed completion of the survey and procurement of over half of the necessary provisions. Thus we are beyond debating whether to create public shelter systems; we have now done it as a result of the action taken by Congress at my request last summer. When we complete this task, the chances of survival of of the Presidents tens of millions of Americans will be improved at a cost of $3 to $4 for each person. We may well take satisfaction in this achievement.
Communities planning to create an effective shelter program founded on space identified in the national survey must be able to act in reliance on the federal Government to carry out announced plans to deliver shelter supplies, improve the warning system, equip a radiological monitoring net, protect emergency broadcasting stations, and provide training materials and instructor training to meet the need for specialized skills in each shelter. The Defense Department is dependent upon the pending $235 million appropriation request to carry out the federal Government's share in this undertaking.
Municipal governments and building owners around the country are now faced with the difficult task of working out the details of making effective use of the surveyed shelter space. This is not an easy thing to do. It is gratifying to all of us to see so many hard-pressed mayors, county commissioners, building owners, school superintendents, businessmen and other community leaders stepping up to this job. This will be our country's first experience with the practical problems of sheltering large numbers of people. I anticipate far better understanding of what can be done to meet the problems presented by the risks of nuclear attack after federal, state and local government programs are translated into something visible and immediately useful in the months ahead.
I particularly wish to call attention to the importance of continuing last year's program for adding low-cost fallout shelter space to suitable buildings owned or leased by the federal Government. Successful completion of the first phase of the new civil defense program depends on public-spirited decisions by building owners to allow their property to be used for the protection of people working or living nearby. Failure of federal, state and local governments to provide shelter space in public buildings makes it difficult to communicate to our citizens the priority which this type of protection must command. Many Americans in public and private life have been and will soon be actively participating in the new civil defense program in reliance on federal leadership and support.
The second phase of the new civil defense program will provide financial help to schools, hospitals and similar non-profit institutions electing to include fallout shelter space needed in their buildings. It requires legislation which is pending before the two Armed Services Committees and, therefore, is not effectively before the Appropriation Subcommittees.
A decision to put public money into shelters in privately owned buildings is a difficult one which deserves deliberate and careful scrutiny by the appropriate committees of Congress. I had hoped that hearings for this purpose would have taken place earlier in this session when there was time and an opportunity to give the matter the necessary attention. At this late juncture, I can appreciate the preference of the Chairman of the Armed Services Committees to defer these important hearings until early in the next Congress when they can be given the time and attention of those concerned. However, local planning to meet requirements for new shelter space, which is closely related to plans to use existing shelter, is likely to be delayed pending clarification of the proposed federal financing for shelter space in schools, hospitals and other community institutions. Accordingly, I am requesting that these hearings be held early enough to enable a supplemental request for enough FY 1963 funds to keep pace with those communities and eligible institutions with plans for creating new fallout shelter spaces.
I am sending similar letters to the Chairmen of other Congressional committees with responsibilities in this matter.

Sincerely,
JOHN F. KENNEDY
NOTE. This Is the text of identical letters addressed to the Honorable Carl Hayden, Chairman of the Senate Appropriations Committee, and to the Honorable Clarence Cannon, Chairman of the House Appropriations Committee. Similar letters were sent to the Honorable Richard B. Russell, Chairman of the Senate Armed Services Committee, the Honorable Carl Vinson, Chairman of the House Armed Services Committee, the Honorable Warren G. Magnuson, Chairman of the Senate Appropriations Subcommittee for Independent Offices, and the Honorable Albert Thomas, Chairman of the House Appropriations Subcommittee for Independent Offices.
John F. Kennedy, Letter to the Chairmen of the Senate and House Appropriations Committees on Civil Defense. Online by Gerhard Peters and John T. Woolley, The American Presidency Project https://www.presidency.ucsb.edu/node/236447