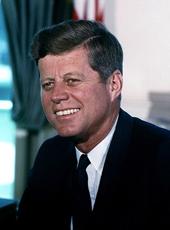 Letter to the Chairmen, House and Senate Public Works Committees, Proposing a Capital Improvements Program for Depressed Areas
Dear Mr. Chairman:
I am transmitting herewith a draft of proposed legislation which would authorize immediate initiation of a $600 million capital improvements program in those sections of our country which have failed to share fully in the economic gains of the recovery from the recession of 1960-61. This proposal is in the form of an amendment to the proposed Stand-by Capital Improvements Act of 1962, which I transmitted to the Congress on February 19 1 and which has since been referred to your Committee as H.R. 10318 (S. 2965) and other identical bills.
1 See Item 53.
The proposed Stand-by Capital Improvements Act, together with the recommended stand-by temporary tax reduction authority and the pending bill to strengthen permanently our Federal-State system of unemployment insurance, would constitute a new and powerful arsenal of weapons to combat the recessions which periodically sap the vitality of our economy. The waste and distress which characterize these periodic recessions can and must be abated. Passage of the recommended legislation will make possible timely and effective action to reduce the severity and duration of future recessions.
Our present problem is not, of course, one of nation-wide recession. We have been making a strong recovery from the recession of 1960-61. Gross national product rose from $501 billion in the first quarter of last year to $542 billion in the last quarter. Industrial production has risen 12 percent over the last 12 months. Disposable personal income per capita has passed the historic $2000 milestone. Unemployment in the last year has declined from 6.9 percent of the labor force to 5.6 percent, and the number of persons at work has increased by more than 1 million over a year ago. The recovery still has considerable distance to go before full employment is restored. But, despite the fact that our economic performance of the last two months has fallen below expectations, we look for a strong and continued expansion throughout the year and into 1963.
Although we do not today face a problem of general recession, the two recessions of the last five years--interrupted only by a short and incomplete recovery--have left in their wake serious problems of prolonged large-scale unemployment and economic distress in hundreds of communities in all sections of the country. The roster of these communities includes large cities, smaller cities, and rural areas. The causes of their troubles are manifold--exodus of industry, displacement of labor by technological change, excessive dependence on declining industries, influx of job-seekers, changing weapons requirements in military procurement, and chronic rural poverty. Whatever the cause, the results are the same--high and persistent urban unemployment or rural underemployment. Continued economic expansion for the Nation as a whole will in time help to restore the prosperity of many of these areas. But their needs are urgent now, and further help should not be delayed until another recession threatens the whole economy.
There are 852 localities which have been designated as redevelopment areas under the Area Redevelopment Act of 1961, and a further 106 communities which have been designated for 12 months or more as areas of substantial unemployment. These 958 localities account for 38 percent of our population. In these areas, taken together, one out of 13 members of the labor force is unemployed, and the average unemployment rate is 33 percent higher than in the rest of the country.
Most of these areas are eligible for assistance under the Area Redevelopment Act of 1961. Although the area redevelopment program is less than a year old, assistance has already been extended to 82 communities in 26 states. As this program gathers momentum, more and more communities will be aided in their efforts to build a durable foundation for sustained local prosperity.
The area redevelopment program, however, is a continuing effort to help communities to attract new and permanent jobs to solve their long-range economic problem; it is not primarily designed to provide immediate relief of distress caused by unemployment, or to assist in the general rehabilitation and improvement of public facilities. I believe that a further Federal effort is necessary, both to provide immediate useful work for the unemployed and the under-employed, and to help these and other hardpressed communities, through improvement of their public facilities, to become better places to live and work.
Accordingly, I urge that we initiate as soon as possible a $600 million capital improvements program in the redevelopment areas and in the communities which have been designated for 12 months or more as areas of substantial unemployment. Actual expenditures will depend upon the timing of Congressional action. If legislation and the supporting appropriation are enacted promptly, expenditures under this program would be approximately $25 million in the remaining months of fiscal 1962, $350 million in fiscal 1963, and $225 million in the early months of fiscal 1964.
These funds would be allocated for federal capital improvements projects in economically depressed areas and for grants and loans to eligible States and localities for improvement of community facilities. Federal grants to States and localities would range up to 50 percent of the cost of each project, and could be higher in certain exceptional cases. Loans would be available to assist hard-pressed communities which would otherwise be unable to meet promptly their share of project costs.
Projects under this program would be limited to those which could be initiated or accelerated within a reasonably short period of time and completed within 12 months after initiation. Other limitations of the stand-by bill would also apply: for example, projects could be approved only if they were capable of meeting an essential public need, if they would contribute significantly to the reduction of unemployment, and if they were not inconsistent with locally approved comprehensive development plans.
State and local capital improvements under this program would include such projects as water supply improvement; parks and other recreational development; sewerage systems and water pollution control; construction, rehabilitation and modernization of public buildings, such as hospitals and civic buildings; and road, street, airfield and port improvement. Examples of federal projects and programs would include conservation activities to improve our public land, water, timber, fish and wildlife resources, and construction or improvement of laboratories, research and training facilities, and other public buildings.
The stand-by capital improvements bill, and this proposal for an immediate public facilities program, are in my judgment of equal importance to the economic welfare of our Nation. The former would enable us more effectively to combat the waste and hardship of future recessions; the latter would bring new public facilities, new jobs, and new hope to those communities whose economic troubles have resisted the rising tide of national economic expansion.

Sincerely,
JOHN F. KENNEDY
Note: This is the text of identical letters addressed to the Honorable Charles A. Buckley and the Honorable Dennis Chavez, Chairmen of the House and Senate Committees on Public Works, respectively.
On September 14 the President approved the Public Works Acceleration Act of 1962. For his statement upon signing the bill, see Item 380.
John F. Kennedy, Letter to the Chairmen, House and Senate Public Works Committees, Proposing a Capital Improvements Program for Depressed Areas Online by Gerhard Peters and John T. Woolley, The American Presidency Project https://www.presidency.ucsb.edu/node/236239