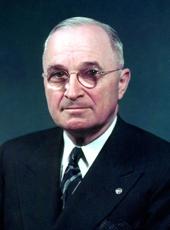 Letter to the Chairman, Wage Stabilization Board, Requesting the Members and Staff To Remain at Their Posts.
Dear Mr. Wirtz:
I am writing to express to you and to all members of the National Wage Stabilization Board my appreciation of your letter of June twenty-eighth. It was particularly helpful to receive at that critical time from a board whose members speak not only as officials of the government but also as representatives of labor and industry, such a forthright statement pointing out the grave dangers inherent in the Price Control Bill then under consideration. My own action in vetoing the bill has made clear how fully my appraisal of its consequences corresponded with yours.
In my radio address last Saturday night I referred to the need for keeping intact the agencies of the government responsible for the administration of the stabilization policy and I requested those government employees who were engaged in the fight against inflation to stay at their posts. My specific reference in this address was to the employees of the Office of Price Administration. This was because their very existence beyond June thirtieth is not at this moment provided for.
Because the National Wage Stabilization Board receives its appropriation as a part of the Department of Labor appropriation and because it exercises (under the War Labor Disputes Act and under Executive Order 9672) certain functions other than stabilization functions, its administrative and financial position is different from that of the Office of Price Administration. Nevertheless, I want the members and staff of the Board to realize that they were included within the spirit of my request. I hope every employee will remain on the job until the Congress can act.
I spoke, in my message to the House of Representatives vetoing the so-called Price Control Bill, of the invaluable contributions of the National Wage Stabilization Board to this crucial campaign against the forces of inflation. It is a contribution not only of the members of the Board itself but of the staff upon which its work depends. That contribution is essential to the continuance of this campaign which I shall press to the fullest extent of my powers.

Very sincerely yours,
HARRY S. TRUMAN
[Honorable W. Willard Wirtz, Chairman, National Wage Stabilization Board, Department of Labor, Room 5146, Washington 25, D.C.]
Harry S Truman, Letter to the Chairman, Wage Stabilization Board, Requesting the Members and Staff To Remain at Their Posts. Online by Gerhard Peters and John T. Woolley, The American Presidency Project https://www.presidency.ucsb.edu/node/232456