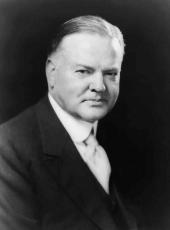 Letter to the Chairman of the Silver Bow County Republican Committee on the World Economic Conference.
[Released October 20, 1932. Dated October 17, 1932]
My dear Mr. Hudtloff:
I am glad to receive your telegram calling my attention to the misinformation given in recent public meetings in Butte in respect to the calling of a Silver Conference.
Something over a year ago I had informal inquiries made, as is the usual custom, of important governments as to whether they would be prepared to attend a silver conference to be called by the American Government. They stated that they would not be interested in such a conference. At subsequent dates on being approached by minor governments who were anxious to secure such a conference, we suggested that they endeavor to see whether they could secure attendance of the principal foreign governments at a conference which they would call, and that we would be glad to attend and cooperate. We also suggested that regional conferences might be held at which we would attend. Finally, upon the proposal of the British Government that there should be called a World Economic Conference to take place late this year, I made it a condition of our acceptance that the whole silver question should be put in the agenda of that conference and that it should be fully dealt with. That has been agreed to, and recently I stated that I should appoint a member of the delegation to that conference representing the silver interests of the United States.
The Congress has been passing resolutions for twenty years asking for an international conference on silver. Various Presidents have endeavored to secure such a conference. They have all failed because there are governments in the world that are not particularly interested or opposed to any special action. The arrangements which I have succeeded in making in the last few months in respect to the World Economic Conference is the first time that any constructive step has been taken in this direction.
I am anxious to secure the improvement of the silver situation in the world and will take part in any constructive measures to that end. Otherwise I should not have insisted upon this question being fully considered at the forthcoming World Economic Conference.
I am glad that your telegram enables me to give this information and record a statement not only as to the action of the Administration but as to the utter misleading character of these statements which have been made to the people of Montana. Yours faithfully,
HERBERT HOOVER
[Mr. Paul Hudtloff, Chairman, Republican County Committee, Butte, Montana]
Note: The letter was in response to Mr. Hudtloff's request that the president respond to Democratic charges that the administration had taken no action toward calling an international conference on silver.
Herbert Hoover, Letter to the Chairman of the Silver Bow County Republican Committee on the World Economic Conference. Online by Gerhard Peters and John T. Woolley, The American Presidency Project https://www.presidency.ucsb.edu/node/207903