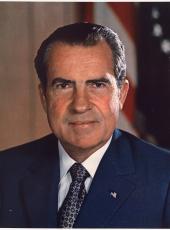 Letter to the Chairman of the Senate Select Committee on Presidential Campaign Activities Responding to Subpoenas Requiring Production of Presidential Tape Recordings and Documents
Dear Mr. Chairman:
This letter is in response to the three subpoenas issued by you as Chairman of the Senate Select Committee on Presidential Campaign Activities and received on my behalf by White House Counsel on December 19, 1973.
These subpoenas call upon the President to produce all of the material in his "custody or possession, or the custody of the Executive Office of the President, or the White House, actual or constructive . . ." which are described in extensive attachments. Only six months ago, your Committee concluded that recordings of five conversations were necessary for your legislative determinations. Now, in one subpoena alone, you list, with widely varying precision, some 492 personal and telephone conversations of the President ranging in time from mid-1971 to late 1973 for which recordings and related documents are sought; and, in addition, in the same subpoena, recordings and related documents are sought for categories of Presidential conversations, identified only by participants and time spans measured in months and years. A second subpoena seeks production of thirty-seven categories of documents or materials, one of which is "'President Richard Nixon's Daily Diary' for January 1, 1970, to December 19, 1973," a period of approximately four years.
As I stated in my letter to you of July 6, 1973, "Formulation of sound public policy requires that the President and his personal staff be able to communicate among themselves in complete candor, and that their tentative judgements, their exploration of alternatives, and their frank comments on issues and personalities at home and abroad remain confidential." I anticipated that even quite limited, selected disclosures of Presidential recordings and documents "would inevitably result in the attrition, and the eventual destruction, of the indispensable principle of confidentiality of Presidential papers."
To produce the material you now seek would unquestionably destroy any vestige of confidentiality of Presidential communications, thereby irreparably impairing the constitutional functions of the Office of the Presidency. Neither the judiciary nor the Congress could survive a similar power asserted by the Executive Branch to rummage through their files and confidential processes. Under the circumstances, I can only view your subpoena as an overt attempt to intrude into the Executive to a degree that constitutes an unconstitutional usurpation of power.
As you are aware, substantial numbers of materials have been provided to the Office of the Special Prosecutor for possible use with grand juries. With respect to whatever portions of the materials covered by your subpoena may be relevant to matters now subject to grand jury investigation, and potentially, criminal trials, disclosures to you, and through you to the public, could seriously impair the ability of the Office of the Special Prosecutor to complete its investigations and successfully prosecute the criminal cases which may arise from the grand juries.
Incurring these adverse consequences by complying with your subpoena would, on the other hand, serve no legislative purpose which I can discern.
I recognize that in the current environment, there may be some attempt to distort my position as only an effort to withhold information, but I take this position to protect the Office of the President against incursion by another Branch, which I believe, as have my predecessors in office, is of utmost constitutional importance.
Accordingly, in order to protect the fundamental structure of our government of three separate but equal branches, I must and do respectfully decline to produce the materials called for in your subpoenas.

Sincerely,
RICHARD NIXON
[The Honorable Sam J. Ervin, Jr., Chairman, Select Committee on Presidential Campaign Activities, United States Senate, Washington, D.C. 20510]
Note: The text of the letter was released at San Clemente, Calif.
Richard Nixon, Letter to the Chairman of the Senate Select Committee on Presidential Campaign Activities Responding to Subpoenas Requiring Production of Presidential Tape Recordings and Documents Online by Gerhard Peters and John T. Woolley, The American Presidency Project https://www.presidency.ucsb.edu/node/256449