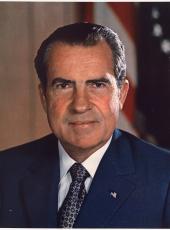 Letter to the Chairman of the Senate Foreign Relations Committee About National Security Investigations and Wiretaps.
YOUR letter of June 25 has been brought to my attention, and I welcome this opportunity to affirm my public statement of May 22, 1973, as quoted in your letter, and to add the following comments.
You appreciate, I am sure, the crucial importance of secrecy in negotiations with foreign countries. Without secret negotiations and essential confidentiality, the United States could not have secured a cease-fire in South Vietnam, opened relations with the People's Republic of China, or realized progress in our relations on the SALT negotiations with the Soviet Union.
The circumstances that led to my decision to direct the initiation of an investigative program in 1969 are described in detail in the May 22 statement. I ordered the use of the most effective investigative procedures possible, including wiretaps, to deal with certain critically important national security problems. Where supporting evidence was available, I personally directed the surveillance, including wiretapping, of certain specific individuals.
I am familiar with the testimony given by Secretary Kissinger before your Committee to the effect that he performed the function, at my request, of furnishing information about individuals within investigative categories that I established so that an appropriate and effective investigation could be conducted in each case. This testimony is entirely correct; and I wish to affirm categorically that Secretary Kissinger and others involved in various aspects of this investigation were operating under my specific authority and were carrying out my express orders.
RICHARD NIXON
Note: The text of the letter, dated July 12, 1974, was issued at San Clemente, Calif., on July 15.
Richard Nixon, Letter to the Chairman of the Senate Foreign Relations Committee About National Security Investigations and Wiretaps. Online by Gerhard Peters and John T. Woolley, The American Presidency Project https://www.presidency.ucsb.edu/node/256119