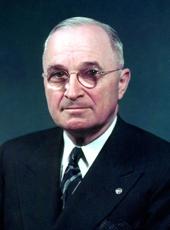 Letter to the Chairman, Federal Trade Commission, Requesting Him To Make an Economic Study.
[Released September 27, 1952. Dated September 26, 1952]
Dear Mr. Chairman:
I would like the Federal Trade Commission to launch a special investigation to give us a breakdown of the consumer's dollar.
We need to know, per unit of product, how much of the consumer's dollar goes for labor costs, material costs, distribution costs, profits, etc. We should have such information for all items important in the budgets of America's families. No such comprehensive data have been prepared by any Government agency.
As I have emphasized to you in earlier discussions, this information is badly needed for several reasons. In the first place, we need the information to help in settling labor disputes. Both sides in a dispute usually present their own estimates of how much a given wage increase would affect labor costs, profits and prices. And then they spend a lot of time arguing about which estimates are correct. Particularly in these days of preparedness, when it is essential to settle labor disputes as promptly as possible, we should have available a set of agreed-upon facts. Such facts would also be useful in the task of keeping prices from rising further.
Then, too, we need more information to show how much of the consumer's dollar spent for food and other farm products actually goes to manufacturers and distributors as compared with what gets back to the farmers. Powerful interests are at work trying to convince the consumer that it is the farmer who is responsible for the high cost of living. Figures of the Department of Agriculture, however, show that the farmer receives only about half of the consumer's food dollar and far less for other products such as cotton and tobacco. Let us get the full facts on where the rest of the consumer's dollar goes.
Moreover, the information would be helpful to businessmen and investors. The individual man could compare his costs with those of the industry as a whole and thus get some idea as to his relative efficiency. Similarly, investors and lending institutions would be provided with a standard against which they could compare the efficiency of companies seeking financial assistance.
The consumer has a right to know who is getting his dollar. When he pays a high price at the retail store, how much of that price does the retailer get? How much does the wholesaler get? How much goes for transportation? How much did it cost the manufacturer to produce the product, and of those manufacturing costs how much went to labor, to materials, to overhead, etc. ?
Government, too, must have the facts if it is to deal intelligently and responsibly with the major interest groups in the country. I believe firmly that each of the major groups that make our private enterprise system work--farmers, labor and business--can do their job effectively only if they have full access to the facts.
I wish you would give me your views as to the most feasible and economical way of gathering this information. I will expect you to make the best possible use of existing data and government facilities under the general coordinating work of the Bureau of the Budget. How can we best learn what additional facts are needed in this area? And how soon can you begin work on this project?
The Federal Trade Commission is the logical agency to undertake this program. The Commission is a bi-partisan agency and has a long and distinguished record for objective fact-finding studies. The Commission has both the powers and the experience for the job.
I am very much interested in this matter. I feel that Congress will also be interested, since the program will provide essential information to Congressional Committees concerned with economic stabilization, labor disputes, monopoly problems and similar matters. I hope you will give it your immediate attention.

Sincerely yours,
HARRY S. TRUMAN
[Honorable James M. Mead, Chairman, Federal Trade Commission, Washington, D.C.]
Note: In his letter of reply, dated and released September 29, Chairman Mead stated that the Commissioners were unanimous in the belief that "this would be one of the most useful tasks which the Commission could perform." He added that a report would be submitted to the President following public hearings, to which would be invited representatives of interested public and private organizations, and after consultation with other Government agencies.
Harry S. Truman, Letter to the Chairman, Federal Trade Commission, Requesting Him To Make an Economic Study. Online by Gerhard Peters and John T. Woolley, The American Presidency Project https://www.presidency.ucsb.edu/node/230556