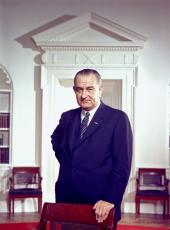 Letter to the Chairman, Civil Service Commission, on Coordination of Federal Activities in the Field.
Dear Mr. Chairman:
On October 21, 1963, just a month before his tragic death, President Kennedy wrote you of his high interest in the accomplishments of the Federal Executive Boards which he had asked you to establish in major centers of Federal employment throughout the country. It was his expectation that through these Boards the top Government managers in the field could more effectively coordinate and supplement their individual efforts to advance programs of interagency and intergovernmental concern and to achieve greater efficiency and economy in Government operations.
I ask the Federal Executive Boards to continue to fulfill this important role. In my first address to the Congress after assuming the responsibilities of the Presidency, I pledged that Government expenditures would be administered with the utmost thrift and frugality. In keeping with this pledge, I have called on the heads of executive departments and agencies, in my memorandum of November 30, to make each agency a model of good management and economical administration. The full support of the Federal Executive Boards, and, indeed, the talents and dedication of all Federal officers and employees everywhere, are essential to accomplishing this goal.
I had the pleasure of meeting with the Chairmen of the twelve Federal Executive Boards in July of last year in connection with our efforts to achieve full equality of employment opportunity for all Americans. I commend the Boards for their contribution to these efforts. I know I may count on them to continue to help the Federal Government set an outstanding example in the employment and utilization of minority group citizens within our merit system framework.
I would like you to continue to serve as the central point of contact for the Federal Executive Boards, to communicate with them on matters of Government-wide management interest, to coordinate Board activities, as may be necessary, with the Director of the Bureau of the Budget and other departments and agencies, and to keep me informed of Board accomplishments.
In our highly decentralized Government operations, the -heads of Federal installations and offices in the field have a clear responsibility for serving the broad management interests of the Federal community. I believe the Federal Executive Boards perform a natural and vital role in achieving these mutual purposes. I am personally interested in the contributions which the Boards can make, and ask their full cooperation in the great tasks before us.

Sincerely,
LYNDON B. JOHNSON
[Honorable John W. Macy, Jr., Chairman, Civil Service Commission]
Note: For the President's memorandum of November 30 to the heads of executive departments and agencies, see Item 18.
Lyndon B. Johnson, Letter to the Chairman, Civil Service Commission, on Coordination of Federal Activities in the Field. Online by Gerhard Peters and John T. Woolley, The American Presidency Project https://www.presidency.ucsb.edu/node/238767