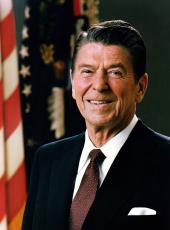 Letter to the Chairman and Vice Chairman of the Senate Select Committee on Intelligence on Covert Action Procedural Reforms
Dear Chairman Boren: (Dear Vice Chairman Cohen:)
In my March 31, 1987, message to Congress, I reported on those steps I had taken and intended to take to implement the recommendations of the President's Special Review Board. These included a comprehensive review of Executive branch procedures concerning presidential approval and notification to Congress of covert action programs—or so-called special activities. In my message, I noted that the reforms and changes I had made and would make "are evidence of my determination to return to proper procedures including consultation with the Congress."
In this regard, Frank Carlucci has presented to me the suggestions developed by the Senate Select Committee on Intelligence for improving these procedures. I welcome these constructive suggestions for the development of a more positive partnership between the intelligence committees and the Executive branch.
Greater cooperation in this critical area will be of substantial benefit to our country, and I pledge to work with you and the members of the two committees to achieve it. We all benefit when we have an opportunity to confer in advance about important decisions affecting our national security.
Specifically, I want to express my support for the following key concepts recommended by the Committee:
1. Except in cases of extreme emergency, all national security "Findings" should be in writing. If an oral directive is necessary, a record should be made contemporaneously and the Finding reduced to writing and signed by the President as soon as possible, but in no event more than two working days thereafter. All Findings will be made available to members of the National Security Council (NSC).
2. No Finding should retroactively authorize or sanction a special activity.
3. If the President directs any agency or persons outside of the CIA or traditional intelligence agencies to conduct a special activity, all applicable procedures for approval of a Finding and notification to Congress shall apply to such agency or persons.
4. The intelligence committees should be appropriately informed of participation of any government agencies, private parties, or other countries involved in assisting with special activities.
5. There should be a regular and periodic review of all ongoing special activities both by the intelligence committees and by the NSC. This review should be made to determine whether each such activity is continuing to serve the purpose for which it was instituted. Findings should terminate or "sunset" at periodic intervals unless the President, by appropriate action, continues them in force.
6. I believe we cannot conduct an effective program of special activities without the cooperation and support of Congress. Effective consultation with the intelligence committees is essential, and I am determined to ensure that these committees can discharge their statutory responsibilities in this area. In all but the most exceptional circumstances, timely notification to Congress under Section 501(b) of the National Security Act of 1947, as amended, will not be delayed beyond two working days of the initiation of a special activity. While I believe that the current statutory framework is adequate, new Executive branch procedures nevertheless are desirable to ensure that the spirit of that framework is fully implemented. Accordingly, I have directed my staff to draft for my signature executive documents to implement appropriately the principles set forth in this letter.
While the President must retain the flexibility as Commander in Chief and Chief Executive to exercise those constitutional authorities necessary to safeguard the nation and its citizens, maximum consultation and notification is and will be the firm policy of this Administration.

Sincerely,
RONALD REAGAN
Note: Identical letters were sent to Senator David L. Boren, chairman, and Senator William S. Cohen, vice chairman, of the Senate Select Committee on Intelligence. The originals were not available for verification of the contents of these letters.
Ronald Reagan, Letter to the Chairman and Vice Chairman of the Senate Select Committee on Intelligence on Covert Action Procedural Reforms Online by Gerhard Peters and John T. Woolley, The American Presidency Project https://www.presidency.ucsb.edu/node/252885