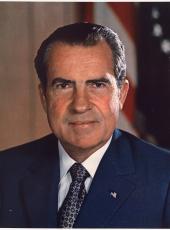 Letter to the Chairman and Ranking Minority Member of the House Committee on Ways and Means About the Welfare Reform Bill.
AS YOU know, I have been following closely the House Ways and Means Committee deliberations on the welfare reform bill, H.R. 1. I appreciate your continued support of the basic principles of the proposal and your determination to obtain early enactment. There is no doubt in my mind that the Nation earnestly wants and needs the reforms in welfare that we seek. The present system is a demoralizing disgrace and must be changed. There is no time to lose.
From the earliest days of the 92nd Congress, we in the Administration have expressed our willingness to consider Committee proposals that would further strengthen H.R. 1 and facilitate Congressional passage. At this time, I want to reaffirm my support of proposals made by Department officials in this spirit, especially those that strengthen the employment and work incentive provisions of H.R.1.
I believe it is incumbent upon the Federal government to make the link between employment and basic income support as strong as possible. Unlike proposals for a "guaranteed annual income" which others have advocated, my welfare reform program has always included strong work incentives and requirements. I emphatically believe that those recipients who can become self-supporting should be provided both the incentive and the means to work their way to independence. At the same time, we must be certain that the responsibility for effecting this transition from support to self-sufficiency is clearly fixed and that the necessary resources are provided. I believe that H.R. 1, strengthened in the ways suggested below, will meet this charge.
1. Public service employment. The Administration has proposed public service employment for recipients for whom no other work or training is available. In the first year, 200,000 jobs would be provided at a net cost of $495 million. These would not be dead-end jobs; rather, they would be administered in a way to facilitate movement into competitive and permanent employment with significant advancement potential.
2. Fixing responsibility for the "working poor" and those with employment potential. Administration of these groups by the Department of Labor would establish clear accountability for training, employment and provide movement from the rolls of Family Assistance recipients who are "working poor" or are found to have employment potential. Those who are presently unemployed would also get appropriate development services (for example, job counseling, referral, training, day care for their children). Those who cannot work would receive services more suited to their particular needs. Initially, the Administration proposed mandatory registration of these groups with manpower agencies. The outlines of our new proposal being considered by your Committee would go even further:

• The working poor (families headed by an individual presently working, but at wages below the poverty level) would be distinguished from the traditional welfare population. In the same way, those with employment potential but presently unemployed, would receive similar special attention. Manpower training and upgrading programs could then be focused on these groups and carefully tailored to their needs.

• The fact that training and employment assistance will be provided by the manpower agencies of government will serve as positive steps to move individuals into the world of work.
3. Increased penalty for refusal to register for or accept work or training. The Administration has proposed an increase in the penalty for those who refuse appropriate work or training. This provision stipulates a reduction of benefits equivalent to the full payment for an adult family member who refuses work or training opportunities. We have also recommended the reduction of any State supplementation for such refusal.
4. Strengthened anti-fraud provisions. The Administration also believes it is

essential to have a strong base for the detection and prosecution of persons purposefully defrauding the welfare system. Thus, we urge your consideration of specific inclusion in H.R. 1 of Section 208 of the Social Security Act that clearly defines fraud, corresponding fines, and other punishment.
5. Cashing-out Food Stamps. The Administration has encouraged action by your Committee in cooperation with the House Agriculture Committee to cash-out the Food Stamp Program for families. The result would eliminate overlapping and duplication between these two programs.
The Administration will continue to work closely with the Committee on these and other matters. I hope this assistance will be of value to the Committee in its efforts to reform welfare. All of us agree that this is one of the most urgent items on our domestic agenda. Sincerely,
RICHARD NIXON
Note: The text of identical letters addressed to the Honorable Wilbur D. Mills, chairman of the House Committee on Ways and Means, and to the Honorable John W. Byrnes, ranking minority member of the committee, was released at San Clemente, Calif.
On the same day, the White House released the transcript of a news briefing on the welfare reform bill by John D. Ehrlichman, Assistant to the President for Domestic Affairs.
Richard Nixon, Letter to the Chairman and Ranking Minority Member of the House Committee on Ways and Means About the Welfare Reform Bill. Online by Gerhard Peters and John T. Woolley, The American Presidency Project https://www.presidency.ucsb.edu/node/241190